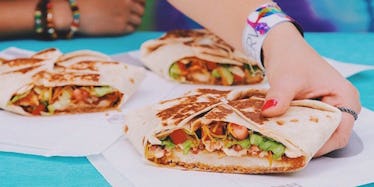 Taco Bell Will Test Delivery Service So You Never Have To Move Again (Photos)
We live in a world where beer-delivering drones could soon be a thing.
That's exactly why we're blown away that Taco Bell still doesn't deliver. I mean, it's Taco Bell, guys. The people eating that stuff are usually stoned out of their minds in the first place.
Well, now, Taco Bell fans everywhere are pretty stoked to learn that the fast food company is looking to finally implement a food delivery service.
In a recent interview with Nation's Restaurant News, Taco Bell's CEO Brian Niccol explained,
Even though it's the No. 1 request from consumers, we have to make sure we can give them an experience that's consistent with Taco Bell, and that's what we're working through. We have to figure it out, and I can tell you right now we don't have it figured out.
Hungry (and somewhat lazy) customers should keep in mind that these things take time.
But it's definitely worth the wait.
Sure, it sucks to hear the company hasn't quite figured it out yet...
...but for fans, it is awesome to hear it's on their radar.
And according to the Huffington Post, the company will be testing out various delivery methods later this year.
That means you'll be able to stay on your couch...
...and have Taco Bell delivered straight to you.
Who wouldn't want Sriracha Quesaritos to appear at their doorstep?
Imagine being able to get anything on the menu...
...without ever leaving your house!
Citations: Taco Bell Is Going To Start Testing Out A Delivery Service (Huffington Post)