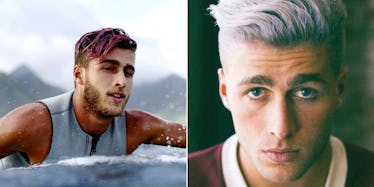 This Surfer Dyes His Hair Crazy Colors And Always Looks Insanely Hot (Photos)
Luke Davis
By this point, every single one of us has seen somebody who's tried the "Granny Hair" trend.
And now there's a whole new movement many Millennials are backing that involves dying your hair all sorts of beautiful pastel colors.
But, for some reason, it seems as though more women have been picking up the dye trend than men: until now.
Meet Luke Davis, a 22-year-old surfer who spends his time traveling the world and, you guessed it, dyeing his hair some pretty radical colors.
The bright-haired hunk told Surfing Magazine that he is planning on traveling the world non-stop, partaking in as many surf events as possible in the hopes of getting featured on some high-profile magazines. He also hopes to rack up a few awards for his sport.
Ladies and gentlemen, I introduce to you, Luke Davis:
His hobbies include surfing...
...traveling the world...
...oh yeah, and dyeing his hair some pretty wavy colors.
He's actually tried the Granny Hair trend himself, and ohh it worked:
As a surfer, he's always down for getting wet:
When your old hair dye job is tired:
The best part is, his friends seem to be down for the ride:
For more Luke Davis, you can go here, here or here. You're welcome.