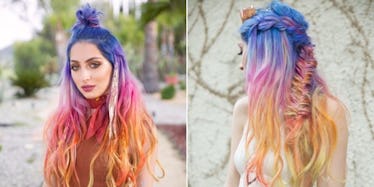 This Gorgeous Sunset Hair Color Is The Perfect Look For Festival Season
PRAVANA
Everyone knows festivals are the perfect places to embrace your free spirit and rock some badass hair colors.
I mean, seriously, who could forget Kylie's mermaid mane for Coachella last year?
This year's Coachella festival happens to be right around the corner, so if you haven't found the perfect dyed 'do to rock in the desert yet, don't worry.
We just came across a new trendsetting hairstyle guaranteed to make you stand out from the rest of the Coachella crowd.
Behold, Sahara Sunset hair.
Celebrity colorist Danny Moon is the mastermind behind this gorgeous technique and was inspired to create a hairstyle that would capture the fiery sunsets Coachella-goers witness as the sun sinks over the Palm Springs sky.
If you're looking to get in on this color craze, you'll be glad to know Moon recently teamed up with PRAVANA to create this look on beauty vlogger Brittany Balyn and show us all how it's done.
For a closer look at this eye-catching hair style, watch the video and check out the pictures below.
Forget that passé mermaid hair.
This year, Sahara Sunset is the "it" hair color for fashionable festival-goers.
Created by celebrity colorist Danny Moon, this free-spirited hairstyle captures the beauty of the fiery Palm Springs sunset...
...by blending beautiful hues of blue, purple, soft pink, magenta, yellow and orange using PRAVANA ChromaSilk VIVIDS hair dye.
From waves to bold braids -- these dusk-dyed 'dos look incredible on everyone...
...so no matter what style you decide to rock in the desert, you can be sure you'll look like a damn Coachella queen.