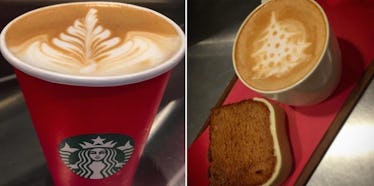 Starbucks' New Holiday Drink Is Finally Here And We Literally Can't Even (Photos)
If you thought holiday-themed coffee cups were exciting, you're in for a pleasant surprise.
Apparently, the holidays came early for all the latte lovers out there.
That's right. Starbucks just made all our inner basic-bitch dreams come true by giving us the gift of a new seasonal beverage to sip on while rocking ugly Christmas sweaters.
Today, Starbucks added the limited-edition Holiday Spice Flat White to its menu, and the new drink might just be the best thing to ever happen to caffeine since the advent of the almighty PSL.
Take a look at the pictures below to see the buzz on this new beverage.
Forget those passé PSLs.
Starbucks introduces the #Holiday Spice Flat White https://t.co/cMu5xXJC2O available beginning today. #coffee pic.twitter.com/q5zec4170b — Starbucks News (@Starbucksnews) November 30, 2015
Starbucks just gave the world an early holiday present...
...and now there's a new spiced latte heating up the coffee scene.
The new holiday spice flat white is — Kaitlin Irving (@kaitlinnirving) November 29, 2015
Feast your eyes on Starbucks' latest and greatest coffee creation: the Holiday Spice Flat White.
The new flavor is basically a flat white dressed up in holiday spirit.
This holiday spice flat white is changing the game. I could bleed Christmas. — JESSICAT (@soccer_momlegs) November 30, 2015
Each cup is made with ristretto shots of espresso that are then spiced up with a sugar, cinnamon, ginger, nutmeg, clove and tangerine sugar spice mix and filled to the brim with steamed milk.
The holiday drink offers subtle hints of your favorite seasonal spices without adding too much sweetness into the mix.
@Starbucks look at this perfect Holiday Spice Flat White I made #baristagoals pic.twitter.com/1pzLqtEiLW — faith born (@faithborn13) November 11, 2015
People are going pretty nuts over this limited edition latte.
Holiday Spice Flat White is to die for UGH YES. — mistletoe mom (@fauxy_lady_) November 30, 2015
But you can't really blame them for loving this spiced flat white because let's face it...
...this festive flavor looks so damn delicious, it should be on Santa's naughty list.
Starbucks has a holiday spice flat white and it tastes every bit as magical as it sounds — Michelle Phillips (@phillipsm17) November 30, 2015
Citations: There's A Brand-New Starbucks Holiday Latte Available TODAY (Refinery29)