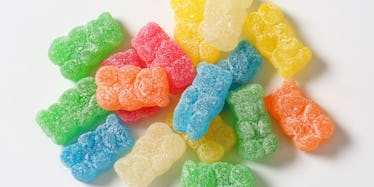 Sour Patch Kids Ice Cream Exists And It's Everything You've Ever Dreamed Of
Shutterstock
If you're a fan of Sour Patch Kids — and you probably are, because it's impossible not to be — you're going to want to sit down for this news.
Are you sitting? OK, here it goes: Sour Patch Kids ice cream is officially a thing.
Ice cream giant Baskin-Robbins developed the candy-inspired flavor as April's "flavor of the month," and unsurprisingly, sugar-lovers everywhere are freaking out.
According to Cosmopolitan, the sweet (and sour) treat features a base of sweet marshmallow and raspberry ice creams, swirled together with a tart Redberry Sour Patch ribbon.
Because more is always better, Baskin-Robbins will also allow customers to top off their "perfectly puckering treat" with a handful of actual Sour Patch Kids.
Is it excessive? Absolutely. But for candy junkies, it's a dream come true.
Unfortunately, the over-the-top flavor will only be available for the month of April, so get your fix before it's gone for good.
Check out the ice cream (and the elated reactions to it) below.
It's official: Everyone's favorite candy has received the ice cream treatment.
Here it is in all its beautiful, sweet-and-sour glory.
Fans are crazy about it.
Sour patch kids flavored ice cream from baskin robbins is so goooood — jen (@lapaowow_) April 5, 2016
The candy-inspired flavor is already a major success.
Just tried @BaskinRobbins sour patch kids ice cream. It was SO GOOD — Ariel Nagi (@arielnagi) April 4, 2016
Some people are already stocking up...
I put a pint of sour patch kids ice cream on hold at baskin robins lol — Rainie Bowyer (@rainiedaze_) April 4, 2016
...While others are simply preparing to indulge in the sweet treat as much as possible.
Uh Sour Patch Kids ice cream? YES PLEASE! Baskin-Robbins Has Sour Patch Kids Ice Cream. Call Your Dentist Now. https://t.co/9LQwUc5GXN — Larry Ulibarri (@LarryUlibarri) March 31, 2016
Even those who didn't expect it to be good loved it.
Last night I had this @BaskinRobbins icecream that was strangely delicious. SOUR PATCH KIDS® REDBERRY® Blast Ice Cream. I need MORE. Pronto. — Becca Guillen (@beccadoodle10) March 30, 2016
The verdict? Sour Patch Kids ice cream gets a resounding "hell yes."
Sour patch kids Ice Cream at Baskin Robbins is dank — Hunter Brooks (@HBomb54) March 30, 2016
Baskin-Robbins, you've created a monster.
Sour patch kids Redberry Blast is the flavor of the month and it is awesome! @BaskinRobbins #enjoyingtwofortuesday #lovesourpatch — Elizabeth Scarpelli (@lizmarketing) March 30, 2016
Citations: ALERT: Baskin-Robbins Just Turned Your Favorite Candy Into Ice Cream (Cosmopolitan)