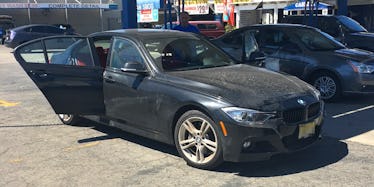 Here's How Nerve-Wracking It Is To Ship Your Car Across The Country
Rob Anthony
If you're anything like me, you've been overly obsessed with cars, and everything about them, since birth.
Ever since I was young enough to ask the tooth fairy for a driver's license instead of $20, I've been consumed by the thought of owning every single car ever made -- except for a Prius (sorry, Toyota).
That's why I was super stressed when I decided to ship my car from New York City to Los Angeles.
Despite the fact that I had owned other cars in the past, there's nothing more nerve-wracking than shipping a car you were finally old enough to purchase without the help of your parents.
I would imagine it's like leaving your newborn baby with a babysitter you just met.
Now, at this point, you're probably asking questions like, "Well, why didn't you just road trip it?" 
Sketchy motels, flyover states you only hear about in the news, ever-changing weather forecasts and public restrooms? I can't imagine how that would be any less stressful than trusting some random trucker with your car.
So, if you're ever planning on shipping your car somewhere, here's what to expect.
You'll need to shop around first.
Like anything you're thinking about purchasing in life, you should probably shop around a bit.
Aside from looking for a price point that "hits the spot," you're also going to want to look at customer reviews and comments. Being a responsible shopper will save you a ton of time and money.
Being patient will also help you avoid the evil scam artists of the Internet that exist just to make your life a living hell.
Make sure to look around for clues on which auto transporters are punctual, dependable and actually take good care of your car even when you're not looking.
When signing up for quotes and estimates, try using only your email address.
I made the unfortunate mistake of listing my phone number on one of many contact forms I submitted while shopping around for a shipping estimate. Unless you like your phone ringing non-stop for about a week straight, don't list your phone number.
All of the information you're providing on the contact forms will be sent out to a handful of auto transporters who will attempt to contact you immediately with their bids.
Use your email address instead. You can thank me later!
You'll know the right transporter when you see it.
After a solid week of research, I decided to use Montway Auto Transport. I went with this particular broker because they cut out all of the hard work and uncertainty you'll deal with when going through this process.
Once you shoot over all of your information and schedule an estimated pick-up date, the broker will then shop around and find the best transportation company to fill the order.
You'll also need to pay a small fraction of the cost upfront. So, say your shipment is $1,000, expect to pay the broker at least $200 over the phone before they begin locating a carrier for you.
Be prepared to play a bit of a waiting game.
More than anything, sending your car cross-country will teach you the art of having patience.
From the moment you start looking for a deal, to the time your car is expected to be delivered, you'll be pretty unsure when it comes to the timing of everything.
Once your order is finally placed with the carrier by the broker, you'll be given a three-day window of when your car is expected to arrive. It will be the three hardest days of your life to get through.
Lastly, don't expect your car to look good after the trip.
If you're expecting your car to look like a shined-up trophy on wheels, don't.
When my car was finally delivered on the third day, it was completely covered in sand, mud and dirt from the trip. Remember, you car is going from state-to-state, where weather conditions vary.
Expect to splurge on a buff and wax car wash when it's finally delivered -- you'll need it!
If you're concerned about your car being exposed to a little rain, you may want to make sure you're shopping around for an enclosed carrier, which houses your vehicle on an enclosed cargo bed.
Sure, it may seem like a good idea to look for an enclosed carrier, but expect to pay more upfront and in general. Enclosed carriers are typically used to ship classic and exotic cars priced over $200,000.
The end result...(sorry for the blurry photo).
All I needed was a good wash!
Overall, the process was definitely annoying to deal with, but a life lesson I had to get through. Eight days, 2,787 miles and countless worried inquiries later, not a single scratch was found.
Sometimes, a little bit of patience is all you need.