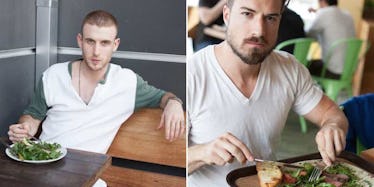 These Sexy Guys Will Make You Want To Eat A Salad For Every Meal (Photos)
Instagram
If you've been keeping up with social media news, you've probably noticed there's been an influx of manly eye candy invading Instagram. Luckily, this trend shows no sign of stopping any time soon.
Recently, we introduced you to those delectable dudes with dogs and sexy men sipping coffee.
If those handsome hunks got you all hot and bothered, you might want to open up a window: There's a new group of good-looking guys steaming up the social media scene.
Say "hello" to a bunch of hot guys eating salads.
Just as the name implies, this new trend features a variety of hot men who aren't afraid to eat healthy.
This heavenly concept was created by the clever ladies over at Women's Health, and these mouthwatering men make eating your veggies appear way more appealing than it should be.
All of these salad-eating studs prove gorgeous men look damn good no matter what they are doing, and seeing these guys flash a little green might even inspire you to start that diet you've been putting off all winter long.
Take a look at the pictures below to see this new Instagram trend.
Feast your eyes on hot guys eating salads.
These hunks are hot and health conscious...
It's no surprise they're the low-cal eye candy of Instagram.
These fit fellows aren't afraid to order a salad on the first date.
And they always finish their veggies before leaving the dinner table.
Forget burgers: These bad boys are all about that green.
They've got some insanely good looks to go along with it.
Seriously, who knew salad could be so sexy?
I love it when a man's outfit matches his meal.
Take a look at these salad-eating studs.
Their healthy choices give them incredible bods.
They have a way of transforming those boring green bowls into a display of unadulterated hotness...
...and they make lettuce look mouthwatering.
Plus, you can be sure these guys are salad tossing pros.
Citations: These Pics of Hot Guys Eating Salad Will Make You Very Hungry (Womens Magazine)