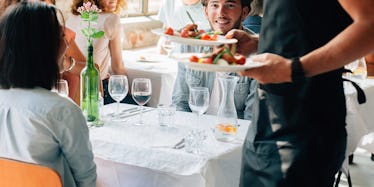 The Next Generation Of Restaurant Ratings Will Totally Change The Game
Julien L. Balmer
These days, restaurant reviews are often just piles of biased opinions on top of biased opinions -- especially in New York.
Whether review platforms are being paid to talk up a particular establishment or a disgruntled customer is bad-mouthing a restaurant for not receiving a glass of water in exactly five seconds, not many of the reviews out there are genuine.
Luckily, there's a new NYC-based restaurant rating system called Renzell.
The restaurant rating system, created by serial entrepreneur and venture capitalist Bo Peabody, offers guests a streamlined, curated perspective on all of the top restaurants in the city!
A recent press release regarding the system's debut reads,
Current rating systems offer either the subjective opinions of a few or the screed of thousands.Renzell uses a hand-selected group of experienced, knowledgeable, anonymous diners along with a comprehensive survey and a proprietary algorithm to create the most accurate ratings of renowned New York City restaurants.
Renzell has been collecting data all year leading up to September 2016 when it will unveil the first official batch of Renzell Ratings. In addition, the company will also launch the Renzell magazine, a quarterly publication to celebrate the restaurants that made the list.
Now this is great for those who love to experience what New York City's finest culinary establishments have to offer, but what does this mean for these restaurants? What is Renzell looking for?
Renzell has assembled a panel of sophisticated diners — regular, non-industry patrons of New York's top restaurants—who understand the complex components of a stellar restaurant experience.
Experience is key, especially when it comes to finding and rating all of the gems the Big Apple has to offer!
Restaurants are graded on thirty-two specific criteria and outside resources, and must be open for a minimum of two years to be considered for the Renzell list.
One a restaurant meets all of the requirements, it's eligible to be rated. The survey produced to rate each establishment consists of over 75 questions designed to eliminate any subjectivity or bias created by the judges.
Equipped with hundreds of thousands of data points, Renzell uses this analytical data to produce the Renzell Ratings. The data will also be made available to restaurants on the Renzell list.
Following an intricate collection of guidelines, Renzell already separated itself from existing restaurant rating systems that have lost their credibility over time.
Interested in staying informed about all of the best places to dine in NYC without feeling like there's some sort of catch? Learn more at Renzell.com.