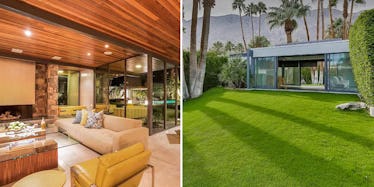 You Can Actually Rent Leonardo DiCaprio's House For $4,500 A Night (Photos)
All MTV's "Cribs" ever did was show the less fortunate that they were, well, less fortunate.
But that was a while back, when Uber didn't exist to make everyone feel like they were the President of the United States.
And with time, it seems that other aspects of a luxurious lifestyle are getting somewhat cheaper.
For instance, if you really wanted to, you could impress your friends (and probably yourself) by renting out one of Leonardo DiCaprio's immaculate houses. No, seriously, you can
No, seriously, you can rent Leo's house in Palm Springs, CA, for $4,500 a night.
At that point, taking an Uber everywhere will seem pretty standard!
The home, which is located 432 West Hermosa Place, boasts over 7,000 square feet of pure lavishness. It includes six bedrooms, seven-and-a-half bathrooms, a backyard tennis court, a sauna and three different garages.
It also features a massive pool for you to unwind in after raging at the Coachella Music Festival, which coincidentally takes place in early April 2015.
The home was originally designed by architect Donald Wexler in 1964. But it wasn't designed for just anyone, it was designed for actress and singer Dinah Shore.
Now it makes complete sense as to why Leo owns it -- it's a Hollywood staple (a Hollywood staple that you could rent out for a weekend).
Doesn't sound like too bad of an idea, huh?
Check out the photos below for a closer look!
Just driving by, you probably wouldn't realize this is one of Leonardo DiCaprio's houses. But it is!
This lavish estate is nestled in Palm Springs, CA.
It boasts over 7,000 square feet of luxuries fit for an A-list Hollywood actor.
As you can see here, there are many earthy elements to this estate.
The best part about it? You can rent it for $4,500 a night! Yes, you!
I mean, look at this kitchen. Who wouldn't want to live like Leo?
Who knows, maybe Rihanna even left a love note for you on the kitchen counter.
Probably not. Regardless, this beautiful home features six bedrooms and seven-and-a-half bathrooms.
The "Wolf of Wall Street" actor picked it up for around $5.32 million in February 2014, according to the Daily Mail.
It even features a sauna because who wouldn't want one of those?!
And it's got three different garages for your luxury cars.
Keep in mind, you can rent this for $4,500 a night.
If you've ever wondered what it's like to live like Leonardo DiCaprio and play tennis in your backyard, wonder no more!
Citations: Live like Leonardo! DiCaprio is renting out his luxurious Palm Springs estate for 4500 a night (Daily Mail)