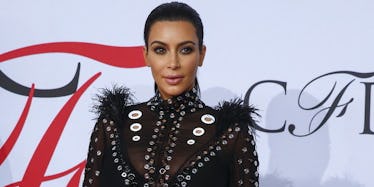 This Painting Of Kim Kardashian Is So Realistic, You'll Do A Double Take
Lucas Jackson/Reuters
We've all seen some seriously impressive fan art.
But, when it comes to creating a star-studded masterpiece, no one does it better than Christopher Minafo, aka The Photorealist.
Remember when I showed you that insane Ellen DeGeneres painting that took Minafo over 80 hours to complete?
Apparently, Ellen isn't the only celeb Minafo managed to turn into a mesmerizing piece of art.
For his latest art endeavor, this 20-year-old New York University student set out to create a gigantic portrait of Kim Kardashian West that looks so damn realistic, it will make you do a double take.
If you're wondering how Minafo manages to create these stunning celebrity portraits, you'll be glad to know he posted an incredible time-lapse video on YouTube showing the whole painstaking process of creating this realistic, 6-foot Kim K on canvas.
In the video, he grabs his oil paints and gets to work on Kim's signature smokey eyes and then moves on to replicating the middle of her face before filling her perfectly contoured cheeks and painting on her glossy nude pout.
After that's all done, Minafo brings Kim's bold brows to life, gives her a shiny black hairstyle and adds a ton of little finishing touches that make this 2D painting look realistic AF.
Check out the video for a closer look at Minafo's magnificent Kim Kardashian West portrait, and see some of his other art projects on his Instagram account.