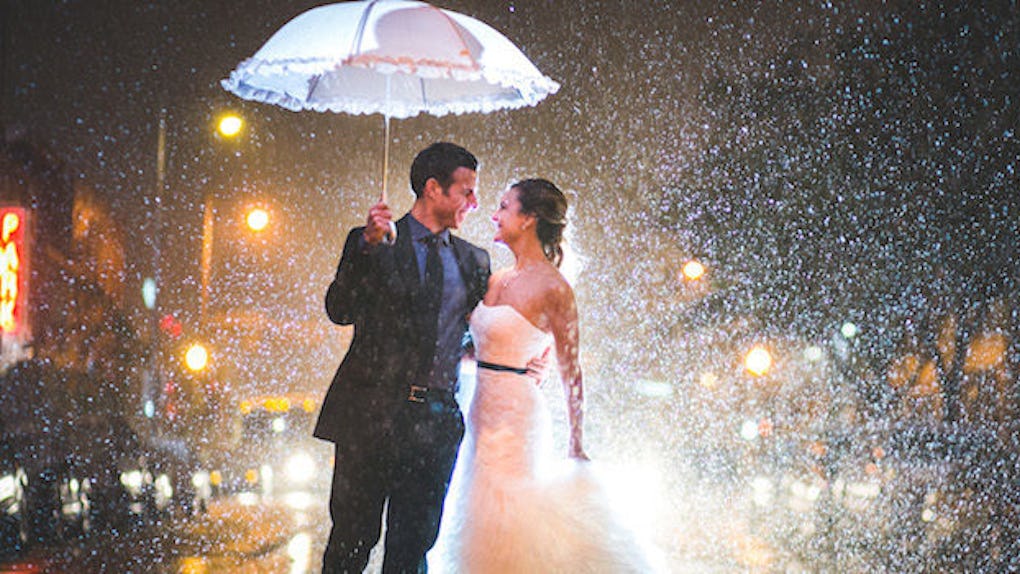 Daylene Wilson
These Stunning Photos Will Make You Pray It Rains On Your Wedding Day
Outdoor weddings are tricky. If the weather doesn't cooperate, the day is ruined.
Or so you'd think.
But when it rained (and, unbelievably, snowed) on Michael and Tami Mantia's wedding day earlier this month, the Denver-based couple made the best of the situation, and the results were even more gorgeous than they'd ever imagined.
Though the newlyweds were forced to move their party inside, they were intent on taking outdoor photographs — and so they did, rain be damned.
Tami Mantia told Huffington Post,
As stressed as I was about the weather, plan B turned out to be better than we could have imagined, and we wouldn't change anything about the day. Both [venues] went to huge [lengths] to make sure our night was unforgettable— even with the weather.
Check out some of the beautiful photos (shot by photographer Daylene Wilson) from their rainy wedding below.
The bride and groom pose for a photo in the rain.
The bridal party frolics across a bridge in wedding gear.
The groomsmen seek shelter under umbrellas.
The rain cleared for this rooftop snap.
The groom is caught stealing a kiss.
The wedding party enjoys the big day.
Citations: These Gorgeous Photos Prove That There Are Far Worse Things Than Rain On Your Wedding Day (Huffington Post)