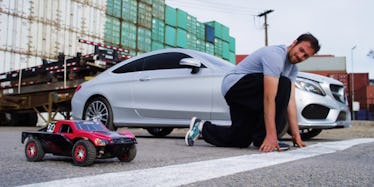 This Exhilarating Race Between A Car, A Toy And A Man Will Blow Your Mind
YouTube
When was the last time you saw a sports car square up against a remote-controlled car and a parkour athlete?
Well, there's a first time for everything! In a recent video uploaded to YouTube by videographer Devin Super Tramp, we're introduced to an obscure matchup featuring a brand new Mercedes-Benz coupe, a parkour expert and a toy car.
The results? Let's just say it's like watching the best part of a James Bond film -- it's that action-packed.
The race takes place in a shipping yard, which makes for a pretty sweet racecourse. The parkour athlete featured in the video makes jumping from wall to wall look way too easy.
As for the RC car... well, let's just say it put up a great fight as it literally launched itself from one container to the next and barreled through any obstacle it came across!
Check out the video above for a closer look.