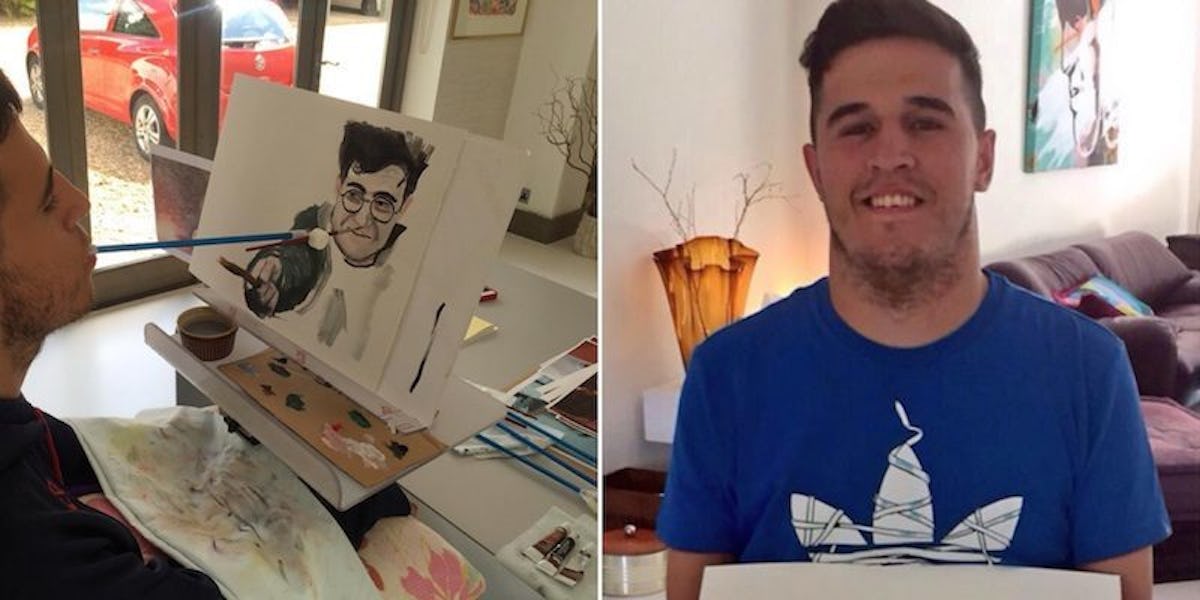 Quadriplegic Artist Makes Incredible Paintings Using Only His Mouth (Photos)
Nothing will ever come between Henry Fraser and his love for art.
Fraser, an England-based painter, was paralyzed after a traumatic accident six years ago.
While vacationing in Portugal with a few friends, Fraser dove off a dock into shallow waters and dislocated his neck.
According to Huffington Post, Fraser is now paralyzed from the shoulders down, but that won't stop him from pursuing his true passion: art.
While sick back in January, the 23-year-old Hertfordshire resident became bored of lying in bed all day.
So, he decided to grab his iPad and draw a picture using only his mouth of Jonny Wilkinson, a British rugby legend.
After completing the drawing, Fraser tweeted the image, and Wilkinson replied,
That is phenomenal, Henry. I love it.
From then on, Fraser crafted many drawings using paint, pencils and his mouth -- finding a new way to exercise the artistic skills he learned in school prior to his accident.
Most of his drawings are sports-related, but there are a few movie references as well.
Check out some of his work below for a closer look!
This is Henry Fraser.
Fraser is paralyzed from the shoulders down and must use a wheelchair to get around because of a freak accident six years ago.
In January, while sick in bed, Fraser decided to begin drawing on his iPad to pass the time.
His first drawing was of professional rugby legend Jonny Wilkinson.
Fraser, who tweeted the drawing, received great praise for his artistic ability from many Twitter users, including Wilkinson himself.
@henryfraser0 thanks for the support Henry! #CarryThemHome — England Rugby (@EnglandRugby) March 1, 2015
Now, Fraser continues to compose the drawings using just his mouth, and he is quite the sensation on Twitter because of it.
Here is his amazing drawing of Gordon Ramsay!
His work is pretty awesome, don't you think?!
Citations: This Quadriplegic Artist Creates Impressive Portraits Of Athletes With His Mouth (Huffington Post)