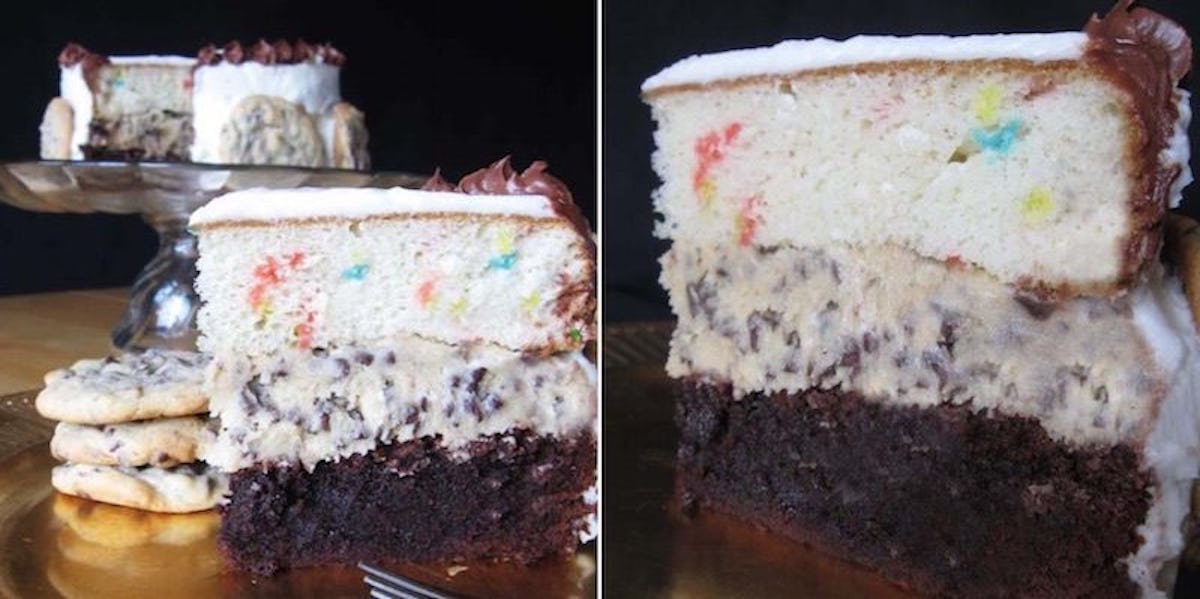 Insane Cake Combines Three Desserts Into One Seriously Delicious Treat (Photos)
Nothing tastes sweeter than revenge -- except maybe the almighty Pudgy Cake, of course.
Created by Shelly, the evil genius behind the baking blog Cookies and Cups, the Pudgy Cake features a towering array of cake, brownie, cookie dough, vanilla frosting, chocolate frosting and some chocolate chip cookies to boot!
Or, as Shelly likes to put it, this bad boy is basically the "hustler of desserts."
Apparently, this divine creation was inspired by one of Shelly's haters who accused her of being "the reason America is fat."
Instead of letting that get her down, she decided to take it as a challenge and invented the most insanely delicious cake the world has ever seen.
If you're wondering how you can get your hands on a piece of this Pudgy Cake, you'll be glad to know you can make it at home since Shelly was nice enough to reveal all of her big, fat recipe secrets.
Take a look at the pictures below to see this badass cake.
To make your own Pudgy Cake, you'll need brownie mix, Funfetti cake mix, butter, sugar, light brown sugar, milk, vanilla extract, salt, flour, semi-sweet chocolate chips, vanilla frosting and chocolate frosting.
First, bake the cookies, brownies and Funfetti cake according to the directions on the packages. In a separate bowl, make the cookie dough by combining the butter, sugar, light brown sugar, milk, vanilla and salt, followed by flour and then finally the chocolate chips.
To assemble this tasty treat, take your brownie base and smother it in a nice thick layer of cookie dough.
Place your Funfetti cake layer on top.
Cover the entire thing in vanilla frosting and stick a bunch of cookies on the side because, well, why the hell not?
Add some chocolate frosting finishes for good measure, and you're all set. You can now stuff your face with the most heavenly dessert on the face of the Earth.
Citations: Pudgy Cake (Cups And Cookies)