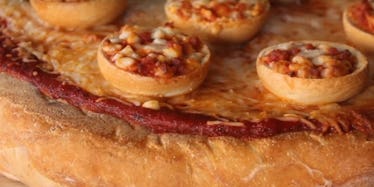 This Insane Pizza Is Stuffed With Another Pie And Topped With Bagel Bites
YouTube
When it comes to the most glorious food on the face of the Earth, I think most people would agree nothing can top pizza, except maybe pizza surrounded in -- you guessed it -- MORE PIZZA, of course!
Yep, if you love stuffing your face with a few tasty triangles every now and then, you're in for a treat.
Your favorite foul-mouthed foodie just committed some pizza-on-pizza crime that is pretty much guaranteed to blow your damn mind.
Behold, "Pizza Stuffed Pizza... With Pizza On Top."
Created by The Vulgar Chef, this bad boy takes your pathetic normal pie to a whole new level of deliciousness by stuffing the dough with a frozen pizza before smothering the whole thing with sauce, loading it up with cheese and tossing a bunch of Bagel Bites on top for good measure.
Seriously, how has no one thought of doing this before?
If you're looking for a way to get your hands on some of these triple-threat triangles, you'll be glad to know The Vulgar Chef was nice enough to make a YouTube video where he reveals his insane pizza-ception recipe and breaks the whole process down into some easy-to-follow steps.
Check out the video for a closer look at how to make this badass pizza pie.