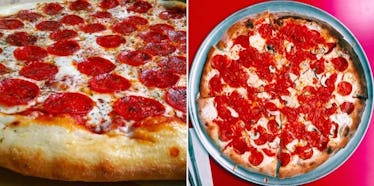 Pizza Is Officially The Most Instagrammed Food In The Whole World
If there's one thing we can all agree on, it's almost everyone loves pizza.
And I say almost because there's always that one person who'd rather have a Caesar salad instead -- and that's OK. But for the most part, pizza gets all of the love, especially when it comes to food posts on Instagram!
According to Thrillist, pizza was named the most Instagrammed food in the world by Italian news site TGCOM24.
A study involving examining the over 300 million food photos concluded 17 million of those photos were of pizza.
That's a lot of pizza selfies! The research was conducted by Chef Alessio Mecozzi and Klaus Davi, a communications company.
In addition to pinpointing the most photographed food on Instagram, the study also concluded the majority of the photos were snapped by men, and the most common location for the pizza photos was New York City.
That's a bit surprising to me since every woman I know would practically (and literally, probably) kill for a slice of pizza.
Regardless, it has now been confirmed pizza is officially the most Instagrammed food in the world. What did you expect?
After all, even rats love it.
In honor of this great, extra-cheesy accomplishment, here are some mouthwatering photos of pizza. Bon appétit!
A recent study concluded pizza is the most Instagrammed food in the world.
Did that really surprise you? I mean look at this.
How could anyone possibly resist the urge to share this with everyone?
The study required the exploration of more than 300 million photos of food. Around 17 million of those photos were of pizza.
That's a lot of cheese!
The study also concluded more men posted pictures of their pizzas than women did.
That's hard to believe.
In addition, the study found most of the pizza photos were taken in New York City.
It seems pizza will remain at the top for a while.
The sheer number of photos says everything you need to know about pizza: It's amazing and everyone agrees.
Now, go ahead, order up a slice and snap a pic for the 'Gram!
Citations: Pizza Is Obviously The Most Instagrammed Food In The World (Thrillist)