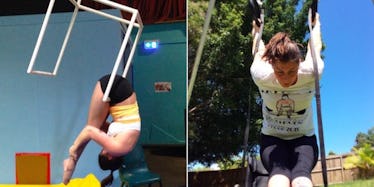 Paralyzed Woman Becomes An Aerial Artist And Proves Anything Is Possible (Photos)
Looking graceful as you flip through hoops high in the air is a pretty hard thing to do for the average person.
But then again, I guess you could say 34-year-old Lauren Watson isn't exactly your average Aussie. When Watson was 19 years old she was involved in a car accident, leaving her paralyzed from the waist down.
However, this Queensland native never lets that stop her from doing all sorts of amazing things -- like becoming a badass aerial artist, for example.
As a result of her hard work and determination, Watson was able to fulfill her dream of becoming a skilled aerialist and even performed in a few Flyworx circus acts and a music video.
However, Watson's ultimate goal is to inspire others with disabilities to get more involved in the performing arts. She told BuzzFeed,
Disability or not, we are all just people chasing the dream to be the best that we can be with what we have.
Take a look at the pictures below to see this incredible aerialist.
Meet Lauren Watson.
Watson isn't your average 34-year-old woman from Queensland, Australia.
In 2000, Watson suffered severe spinal cord injuries in a car accident, and she was left with incomplete paraplegia.
Since the accident caused her legs to lose most of their motor and sensory abilities, Watson became wheelchair bound.
However, Watson's disabilities haven't stopped her from following her dreams.
After struggling with physical therapy for many years, Watson stumbled across an aerial arts demonstration...
...and the performance inspired her to become an aerialist herself.
She told BuzzFeed, "I thought, 'That has to be impossible, but if I can master it, I'll be able to do anything.'"
After months of searching for an aerial school to accommodate her, she found Industry Aerial Arts and began taking lessons.
Her progress was pretty slow for the first six months. She said, "I couldn't climb, but I didn't give up. If you do, you'll spend the rest of your life wondering 'what if.'"
Despite discouragement from her physiotherapist, Watson kept taking lessons...
...and over the next couple years, she learned how to adapt her poses to her paralysis and eventually fulfilled her dream of becoming a high-flying aerial artist.
Lauren said, "Aerial makes me realize everything is achievable because I feel empowered to take on new challenges. I always find new ways to make it work."
Now, Watson uses her story to encourage other people with disabilities to get involved in performance arts, and she even started her own blog called Fitness to Free, as well as a YouTube channel.
She certainly is an inspiration to all!
Citations: This Woman Paralyzed From The Waist Down Became An Aerial Performer (BuzzFeed)