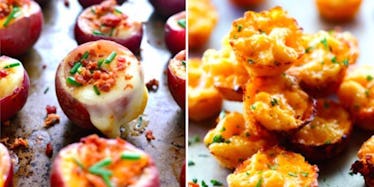 10 Movie-Themed Appetizers For An Award-Winning Oscars Party
Awards season is upon us, so you know what that means.
It's time to gear up for a fabulous night of posing in your gorgeous designer gown as you schmooze with other Oscar-nominated celebs on the red carpet.
Or, if you happen to be a normal, non-famous person, you can always settle for an elegant evening affair of Oscars boozing with your BFFs on the living room carpet as you watch the action-packed evening unfold on your flatscreen.
Let's be real, strutting across the red area rug in your apartment basically looks like the real deal if you're drunk enough.
If you're planning to host your own Oscars viewing party, it's important to remember the real stars of the night: the snacks.
Yep, no viewing party would be complete without all sorts of tasty treats to nosh on while you root for your favorite nominees. (We're looking at you, Leo!)
However, just like films, not all finger foods are worthy of winning an Academy Award.
So we set out to find a bunch of mouthwatering appetizers inspired by this year's Oscar-nominated movies that are sure to steal the show.
Take a look at the pictures below to see these fabulous, movie-inspired snacks.
Leonardo Carpaccio Crostini
"The Martian" on Mars Potato Poppers
Mad Mac and Cheese Bites
"The Big Short" Rib Tacos
Brie Larson and Candied Bacon Grilled Cheese
The Ham and Gravy Danish Girl
"Brooklyn" Bagel Pizza Bites
Almond "Joy" Popcorn
"Rocky" Road Dessert Dip
Apple iNachos