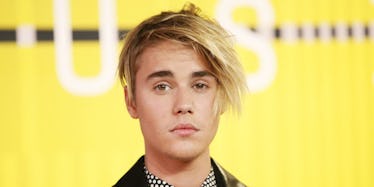 The Product That Gets Everyone From Blake Lively To Justin Bieber Great Hair
Reuters
Justin Bieber is a style icon, whether he likes it or not. Before embarking on his national "mea culpa" tour last year, Bieber emerged from months of sluggish frat boy-dom with a sharp new haircut and sense of fashion to boot.
Twitter trolls might have accused Bieber of looking like mother-of-eight Kate Gosselin, but we undeniably swooned for his "Titanic"-era Leo DiCaprio bangs and puppy eyes. Watch the music video for "What Do You Mean" and try to tell me your heart doesn't skip a beat for those piece-y layers. I always like a man with better hair than me, and I am extremely vain about my locks.
In a new interview with the one-man maestro behind Bieber's entire aesthetic, stylist Florido shares his one beauty must have: Oribe Dry Texturizing Spray, with which he creates the trademark texture of Bieber's flow.
Florido tells Refinery29,
I use [the spray] on everyone that I do. When the hair is super-clean, it feels kind of heavy and doesn't have any grit in it, so that really helps me get the texture and volume that I want.
Did you already forget what that looks like? Allow me to include a gratuitous second reminder of how attractive Bieber is in that music video.
Bieber is far from the only famous person to recommend the spray, however. Stars like Blake Lively, Rosie Huntington-Whiteley and Scarlett Johansson also rely on it for instant volume and a second-day look.
Back in the "Gossip Girl" days, Lively's stylist used to achieve her beach waves by spraying a coat of the Oribe over her whole head, twisting the hair into a loose bun and letting it sit for a few minutes.
If the product's price tag scares you — $44 for 8.5 fluid ounces — rest assured a little goes a long way. After a home blowout, I point the aerosol can at my roots and ends. The resulting texture has a little grippiness without ever feeling sticky. There's a reason beauty obsessives can't get enough of the formula.
Still nervous? Ease into it by purchasing a travel-size bottle. Happy good hair days!