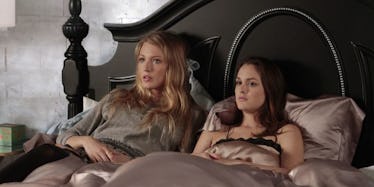 Here's What Blake Lively Thinks About A Possible 'Gossip Girl' Revival
The CW
In the beautiful crystal toilet bowl of industry chit-chat, rumors are a-swirlin' about a possible "Gossip Girl" revival and star Blake Lively sounds pretty down.
In an interview with E! News, Blake admitted she misses the old crew and would consider reprising her role as socialite Serena van der Woodsen for a reunion.
She told interviewer Marc Malkin,
It would be fun. I mean, we had such a great time doing that [show] that I think we would all really enjoy that.
OK, SO, BLAKE'S IN.
That right there is a tacit agreement to a 24-episode revival with one musical episode and an end-of-season death of a major character as far as anyone's concerned.
Blake's reply sounds even more positive than producer Josh Schwartz's original response to reboot rumors. He told E!,
We haven't really explored some of those conversations. Maybe, I don't know. We haven't really thought about it.
Well, think about it, Josh. Blake Lively is in. Blake Lively. Your S-T-A-R.
That's it, Josh. I want to see a script and a shot list on my desk first thing Monday morning. Also, where is the parking lot? Because I do not work here and security is honestly being kinda grabby.
Citations: