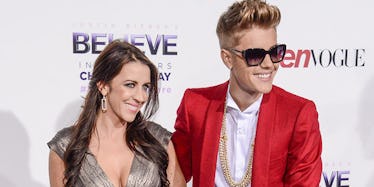 No One Wants Justin Bieber And Selena Gomez Back Together More Than His Mom
REX/Shutterstock
We all know a mom like Justin Bieber's.
Two people break up, and yet one ex's mom is still keeping things friendly. She reaches out from time to time, she might even invite you over -- and she'll definitely hit you up when it's your birthday.
That's Justin Bieber's mom to a T. Just look at the messages she sent to Selena Gomez.
Now, with Elite Daily being the Twitter experts we are, I would be remiss if I didn't point out a couple things.
First off, Pattie hit Selena with not one, but two tweets. Two tweets gushing with love were sent to Selena Gomez as if she were Pattie's daughter (-in-law).
Second, Pattie mentions Selena in a way that made sure literally everyone on Twitter could see it. She didn't opt for a direct message, she didn't even opt for a direct reply (which are a bit harder for the public to find); she went for the ordinary, super in-plain-sight tweet.
Last but not least, though, is this.
Here stands a tweet that is desperately searching for some hope that Justin Bieber and Selena Gomez's romance is still alive.
Pattie liked it, after gushing about how much she loves Selena.
Folks, there's no one who wants them back together more than his mom.