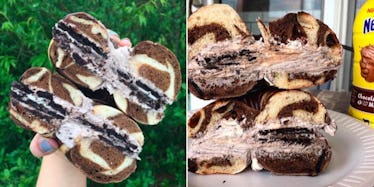 These Insane New Oreo Bagels Are Totally Winning The Breakfast Game
If you thought unicorn coffee and rainbow bagels were the best things that ever happened to breakfast foods, you clearly haven't seen the latest food making people lose their damn minds.
Yep, there's a new morning snack blowing up on social media that pretty much redefines the way you do breakfast from here on out.
Behold, the Oreo Overload bagel.
Created by The Bagel Nook in New Jersey, this glorious treat is just like your ordinary cream cheese-laden bagel except for the fact, you know, there are insanely tasty COOKIES stuffed in the middle of it!
That's right, Oreo cookies to be exact.
If you want to hear all of the drool-worthy details, let me break it down for you.
This sweet snack features a vanilla-chocolate swirled bagel smothered in cookies and cream-flavored cream cheese, and it's loaded up with a layer of delectable Oreos, because seriously, why the hell not?
After a few photos of this epic bagel surfaced on social media, it didn't take long for this tantalizing treat to go viral.
Now, people are basically going ape sh*t over this ingenious bagel invention. If you ask me, this Oreo Overload bagel might just be the best thing that ever happened in the history of breakfast foods.
Check out the pictures below to see some badass bougie bagels.
If you're still eating those boring old rainbow bagels...
...you might want to re-evaluate your breakfast decisions.
There's a new bougie snack on the block...
...and now people are losing their minds over the Oreo Overload bagel.
Created by New Jersey-based bagel shop, The Bagel Nook...
This bad boy puts a sweet spin on your favorite breakfast food...
...by taking a vanilla-chocolate swirled bagel and smothering it in cookies and cream-flavored cream cheese.
But, that's not all. This insane snack also has a delectable layer of Oreo cookies hiding inside.
I repeat, bagels stuffed with Oreo cookies are actually real...
...and these ingenious morning snacks look delicious AF to say the least.
I mean, seriously, just look at this thing.
It's no wonder people are going nuts over this bad boy on social media.
Citations: Oreo Bagels Combine Everything That Is Wonderful And Tasty In The World (Bustle)