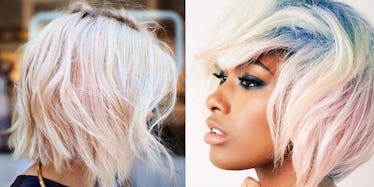 Opal Hair Is The Perfect Way To Tone Down The Rainbow Hair Color Trend (Photos)
There seems to be no end in sight for the colored hair trends.
If you already transformed yourself into a silver-stranded granny, a rainbow-headed unicorn and a blue-haired mermaid (or merman), you'll be glad to know there's another trend you can try.
Opal hair is the latest craze taking over salons, and it looks absolutely incredible.
It's basically a toned-down version of "sand art hair," but this particular style mixes metallic shades with all sorts of pale pinks, purples, blues and greens.
This magnificent mother-of-pearl mane is the perfect way to add a subtle pop of color to your 'do without going overboard.
Aura Friedman from Sally Hershberger Downtown salon is the creative colorist who came up with this new trend. She begins by dyeing the strands light base shades (not quite gray), and then, she adds in bursts of colors in all those fun hues.
Take a look at the photos below to see this stunning new hair trend.
Move over, granny hair...
Opal hair is the newest trend taking over the beauty scene...
And now lots of people are ditching their granny locks...
...for hairstyles with more flair.
Opal hair is an understated version of the previous rainbow-dyed manes we've seen.
This new look features a variety of iridescent pastel shades.
Now, people are going for these precious opal hairstyles...
By dyeing their 'dos all sorts of stunning metallic purples...
Mixed with pearly pinks...
Glittering hues of green...
...and beautiful hints of blue.
Citations: Rainbow Hair Is Over. This Is the Hair Color You Need to Be Wearing Now. (Cosmopolitan), Opal Rainbow Hair Is the Dreamy Dye Trend You Need to Try (PopSugar)