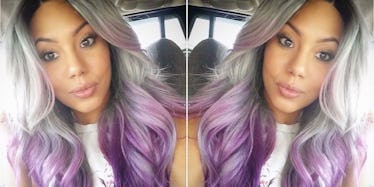 Women Are Dyeing Their Hair Amazing Colors For The Pastel Hair Trend (Photos)
Instagram
Coloring your hair seems to be all the rage these days.
Remember when we showed you the granny hair trend?
If you're starting to get tired of rocking silver locks, you'll be glad to know there's a new beauty trend taking social media by storm, and trust me, it's simply to "dye" for.
Behold, pastel colored hair.
Apparently, colorful hair isn't just for punk rockers anymore, and lots of women (including celebs) are ditching the normal hues for all sorts of stunning baby pink, blue and purple shades.
Aside from looking insanely awesome, these vibrant dos pretty much make you look like a mythical unicorn or a siren of the sea.
If becoming a majestic mermaid isn't at the top of your life goals list, you seriously need to get your priorities straight. Who in her right mind wouldn't want to be a mermaid?
These pretty pops of color give off a fun, feminine vibe, and considering the endless amount of soft shades available, there's a pastel color that perfectly complements any gal's style.
Take a look at the pictures below to see this awesome hair trend.
Multicolored manes aren't just for circus clowns and punk rock chicks.
Thanks to the pastel hair trend, all sorts of ladies are dyeing their 'dos in lovely shades of light pink...
Luscious lavender...
Sexy seafoam green...
...and majestic mermaid blue.
If you can't decide on a color, you can always opt for unicorn hair...
...or go half and half with some cotton candy curls.
You can even combine it with the granny hair trend and give your silver strands a few streaks of color.
Pastel hair looks good with every type of style and skin tone.
You can't go wrong with classic pink curls...
...or a wavy blue do'.
A fiery pastel really turns heads.
A top knot looks even better in cool shades of blue.
Adding some lilac to your locks will make you look like a Coachella queen.
Light pink makes straight hair look even more polished.
A fishtail braid is perfect for any hue of mermaid hair.
And it doesn't look bad in pink, either.
A silvery purple makes a chic statement.
Pink really takes your updo to the next level.
No matter what look you're going for...
...there's a pastel for every gal looking to get in on the trend.