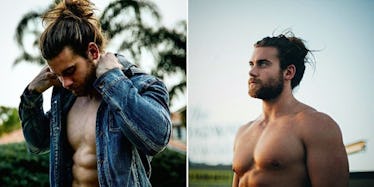 OMFG: You Need To See This Insanely Hot Guy With A Man Bun Right Now (Photos)
As dudes — and even dogs — continue to ditch the buzz cuts for badass buns, it's clear that the man bun epidemic has no end in sight.
Hey, that's fine with me.
I'm not really sure what it is, but there's just something irresistibly hot about a man with this hairstyle.
That being said, not all man buns are created equal.
Dont believe me? Just ask Brock O'Hurn.
Brock is pretty much the almighty king of man buns and he's not afraid to flex his perfectly-tousled top knots on his impressive Instagram account.
If his flowing Fabio-esque locks and messy man buns aren't enough to make you drool all over your keyboard, you'll be glad to know this sexy stud is also 6' 7" and ripped as f*ck.
Seriously, this guy looks so damn good it should be illegal.
You might want to open up a window before you admire this bun-clad eye candy. Things are about to get seriously steamy up in here.
Take a look at the pictures below to see the Brock's heavenly man buns.
Meet Brock O'Hurn.
Aside from being incredibly hot...
Brock is also the master of man buns.
The fact that he's 6'7" and absolutely shredded doesn't hurt either.
Brock's hair game is insanely strong...
...and he constantly crushes the man bun competition.
Move over Kim K, these buns are really going to break the Internet.
It's not hard to see why ladies are falling head over heels for this hunk.
His luscious locks make everything he does look like an epic display of unadulterated hotness.
That coffee isn't the only hot thing in this picture.
You know he woke up this like. #Flawless.
If looking like a mythical god isn't impressive enough, this LA dude also loves dogs...
Hangs out with adorable babies...
And brings his mom flowers on the reg.
Seriously, how does someone this perfect even exist?
Citations: The King Of Man Buns Has Been Found (BuzzFeed)