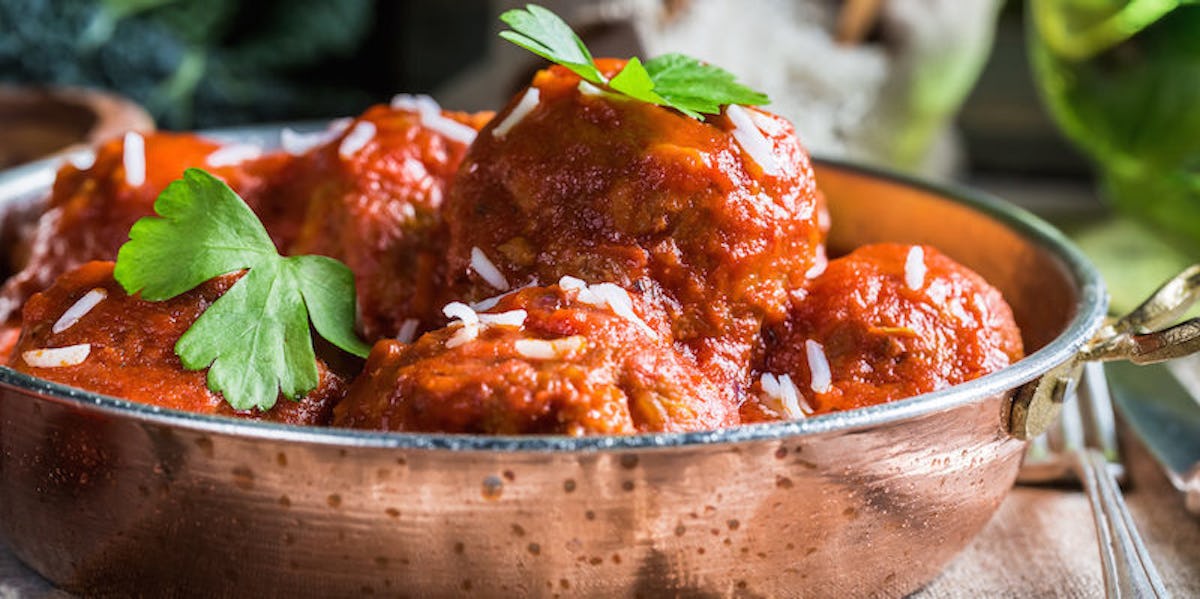 Olive Garden's New Deep Dish Spaghetti Pie Takes Food Goals To Another Level
Shutterstock
If you thought endless breadsticks were the greatest gift Olive Garden ever gave to the world, just wait.
Your favorite Italian restaurant chain just blessed the human race once more by created an epic new food that's pretty much guaranteed to make your drool.
Say "hello" to Olive Garden's newest menu item, the delectable Deep Dish Spaghetti Pie.
Now, it may sound like a lot to take in, so if you're like most people, you probably have one very important question: WTF is spaghetti pie, exactly?
Well, it's actually quite simple.
This heavenly hybrid transforms your beloved bowl of noodles into a savory pasta pie by loading a flaky crust up with spaghetti, homemade sauce and several different types of gooey, melty cheese, of course!
But, that's not all. This bad boy also comes in three different flavors, including the Meatball Spaghetti Pie, the Chicken Alfredo Spaghetti Pie and the Spaghetti Rosso with Chicken and Bacon.
Seriously, these things look so good, you might want to skip out on the seven baskets of breadsticks for once and save some room for these tasty AF Frankenfood creations.
Check out the pictures below to see Olive Garden's awesome new pasta dish.
If you thought spaghetti was pretty damn delicious on its own, you might want to brace yourself.
Olive Garden Launches Spaghetti Pie, Just In Time For Summer pic.twitter.com/IfN3QcslnV — Great-Stuff (@Splurgehub) May 24, 2016
Olive Garden just added a new dish to its menu that will blow your mind.
Behold, Deep Dish Spaghetti Pie.
YAS! @olivegarden adds spaghetti pies, new breadstick sandwiches to menu: https://t.co/3FVqYm84nX pic.twitter.com/cRQtB6kNTA — Kathie Lee and Hoda (@klgandhoda) May 25, 2016
That's right. Olive Garden just did the unthinkable and turned a boring, old bowl of spaghetti into an epic savory pie...
...by taking a flaky pie crust and filling it up with spaghetti, sauce and a sh*t ton of cheese.
Plus, this irresistible entree even comes in three different flavors.
The Meatball Deep Dish Spaghetti Pie features spaghetti, seven different cheeses and bacon, plus some meatballs and sauce for good measure.
The Chicken Alfredo Deep Dish Spaghetti Pie features the same spaghetti base but finishes off with some grilled chicken and alfredo sauce on top.
Last but not least, there's also a Spaghetti Rosso with Chicken and Bacon, which has spaghetti, grilled chicken, bacon, red peppers, tomatoes, asparagus and parmesan pesto sauce.
Hoda, Jenna give Olive Garden's spaghetti pie two thumbs up! https://t.co/ZE9J7Yt3HG via @todayshow — Marcos Arellano (@marcosarellano) May 25, 2016
So, yeah,  if you're looking for me, i'll be at Olive Garden eating myself into a carb coma.
Hi, I'm here for the spaghetti pie. — Adam Kramer (@KegsnEggs) May 25, 2016
Citations: Olive Garden Spaghetti Pie Is A Thing That Exists Now, And It's All Of Your Wildest Pasta Dreams Come True (Bustle)