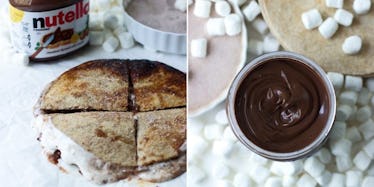 This Isn't A Drill: A Nutella S'more Churro Quesadilla Actually Exists (Photos)
There are not many things in life that compare to the sheer deliciousness of Nutella. I'm pretty sure it's impossible to be sad while stuffing your face with a spoonful of this chocolatey hazelnut spread.
When it comes to creating an awesome dessert, we've seen some pretty incredible things done with this coveted condiment and a little imagination. But, have you ever wondered what happens when your beloved Nutella gets a Mexican-inspired makeover?
Well, it's quite simple: You get an epic Nutella S'more Churro Quesadilla that will blow your f*cking mind.
I know, there's a lot going on in this Frankenfood concoction, so you might want to take a second to let it all sink in.
Created by Cooking for Keeps, this delectable dessert transforms your favorite tortilla snack into a mouthwatering dessert featuring warm, gooey marshmallows and Nutella sandwiched between two crispy churro tortillas smothered in buttery cinnamon sugar.
Yeah, it's basically a dessert fiesta in your mouth.
So, how can you get your hands on one of these babies? Well, you can actually make one yourself.
Take a look at the pictures below to see this amazing dessert.
Behold, the almighty Nutella S'more Churro Quesadilla.
Cooking for Keeps created this sweet snack, and basically, it transforms a boring quesadilla into the craziest dessert concoction known to man.
To make these bad boys, you'll need sugar, cinnamon, whole-wheat tortillas, Nutella, mini marshmallows and butter.
First, combine the cinnamon and sugar in a small bowl and set it to the side. Then, take a tortilla and load that baby up with Nutella, mini marshmallows and a sprinkle of cinnamon sugar.
After that's all done, place another tortilla on top, brush the sides with melted butter and smother the sides in more cinnamon sugar for good measure.
Then, throw the concoction in a skillet on medium heat...
...and cook each side until those churro tortillas are fried to golden perfection.
Now, you have a downright delicious Nutella S'more Churro Quesadilla.
After trying one of these treats, you'll never go back to eating Nutella straight out of the jar.
Citations: This Mind Blowing Quesadilla Combines Nutella Smores and Churros (Cosmopolitan)