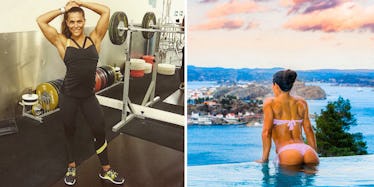 This Ripped Mother Of Two Has The Most Intense Workout Regime Ever (Photos)
Who do you follow on Instagram these days?
Most people make sure to follow immediate family members, close friends and a few people from high school who somehow managed to stay relevant.
Despite giving you access to the people you care about most, Instagram also serves as a great way to stay motivated by others who follow their passions.
Take Jørgine Vasstrand Haagensen, for example. This Norway-based personal trainer is not just breathtakingly beautiful; she's also a dedicated, hard-working mother of two.
If you're in search of a reason to get fit for the summer, this should do the trick.
Check out the photos and her intense workout routine below!
Meet Jørgine Vasstrand Haagensen.
She's a beautiful mother of two you may or may not have seen on your Instagram feed.
Aside from being a hard-working mother, she also showcases a very healthy lifestyle on her Instagram account.
Jørgine is a certified personal trainer and a teacher at the Norwegian School of Sport Sciences.
She's also a brand ambassador for Reebok, so you know she's legit.
If you're in need of some fitness inspiration to get in shape for the summer, you might want to follow her.
Whether she's holding a yoga pose on the beach somewhere...
Or simply taking a picture of her super-healthy breakfast...
...her Instagram account is major motivation!
I mean, who wouldn't want to be as fit as she is?
Oh, and in case you were wondering, this is what her morning stretches look like.
So far, she's managed to rack up over 200,000 Instagram followers (and rightfully so).
Not only does she include her followers in her everyday life, but she also makes sure to pass on her expertise to her family.
Hmm, what are her secrets to staying fit?
One look at her Instagram account, and it's evident positivity, determination and perseverance make all the difference.
The same goes for being an awesome mother!
But the real secret? Her "jump" routine.
Citations: Mom Of Two Has An Insane Workout Routine Did I Mention Shes Gorgeous (BroBible)