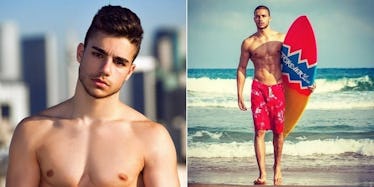 This Hot Model Is Literally The Perfect Mix Of Zayn Malik And Liam Payne (Photos)
Liam Payne and Zayn Malik are both pretty f*cking hot all on their own.
But have you ever wondered what would happen if you took each of their best features and put them all together?
Luckily, we no longer have to wonder because One Direction fans finally found the answer.
You get the irresistible Israeli model Ariel Ben Attar.
Yep, it turns out the world has actually been blessed with a beautiful human being who basically looks like he could be a Liam Payne and Zayn Malik love child.
I know, it sounds pretty hard to believe someone this damn good looking can actually be real.
But trust me, this insanely handsome hunk is the perfect mashup of your favorite One Direction dude and former One Direction member.
Take a look at the pictures below to see this Zaim love child.
Meet Ariel Ben Attar.
Aside from being one extremely blessed bro...
Attar is a male model...
...and he looks like a mashup of Liam Payne and Zayn Malik.
A dedicated One Direction fan tweeted a few photos of Attar after making this groundbreaking discovery.
THIS IS ZAYN AND LIAM'S CHILD pic.twitter.com/EEcHUvxK8R — gus (@orzayn) September 3, 2015
And now people are losing their sh*t over this smoking hot Zayn-Liam love child.
Everything about this dude is absolutely perfect.
Just look at his insanely ripped bod...
...and those chiseled, rock solid abs.
I could stare into those eyes all day.
And don't even get me started on that sexy smile.
If his good looks aren't enough to convince you Attar is the ultimate #HusbandGoals...
...this heavenly hunk is also great with kids. Seriously, how does this guy exist?
Citations: If Zayn Malik and Liam Payne Had a Child, He'd Look Exactly Like This Ridiculously Hot Actual Dude (Seventeen)