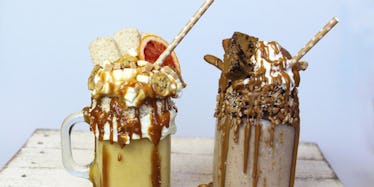 These Healthy Versions Of Those Insane Milkshakes Are Perfect For Summer
When it comes to indulging during the blazing hot summer months, you can't go wrong with an ice-cold confection.
Not too long ago, we showed you a bunch of insane, over-the-top milkshakes from Black Tap Craft Burgers & Beer in New York City.
From drinks topped with colorful cotton candy and cookies to decked-out shakes combined with basically every amazing snack food known to mankind, it's clear this place doesn't mess around when it comes to whipping up some mind-blowing treats.
However, there's just one downside to these towering desserts.
If I had to guess, I'd say each one of these bad boys probably has about, oh, I don't know... a BAJILLION calories.
Yep, if you happen to be watching your waistline, you probably don't want to touch one of these decadent drinks with a 10-foot straw.
But don't worry. You don't have to cry into your sh*tty kale smoothie as you daydream about these sweet, sugary sips.
That's right. The snack box subscription company Graze recently set out to put a healthy spin on some of those mouthwatering monstrosities from Black Tap.
Using some of its own signature snacks, the company created a Banana Cream Pie Milkshake and a Snickerdoodle Cookie Milkshake.
The best part is Graze was nice enough to share these sweet recipes with us, so we can shake up our summers without even having to leave the house.
Check out the pictures below for a closer look at these glorious shakes.
If you're looking for a way to indulge without the bulge this summer...
...you might want to stop what you're doing and pay attention.
The snack subscription company Graze just created copycat versions of those insane milkshakes from Black Tap Craft Burger & Beer that won't sabotage your diet.
Yep, using some of its tasty snacks, Graze came up with two glorious milkshake recipes that contain about half the calories as those bougie Black Tap confections.
And you won't have to wait in a long line to score one of these treats because Graze was nice enough to share the recipes! You can easily whip these babies up in the comfort of your own kitchen.
For the Banana Cream Pie Milkshake you'll need to gather up some simple ingredients...
Ingredients: 1 cup coconut milk 1 fresh banana 1 cup frozen mango 1/3 cup of orange or pineapple juice 1 teaspoon of vanilla extract 1 tablespoon of honey or Truvia 2 tablespoons of Greek yogurt Graze Whole Grain Banana Caramel Dippers Graze Banana Cream Pie Snack Graze White Chocolate Dip
...and follow step-by-step directions.
Directions: 1. Blend the coconut milk, banana, mangos, orange juice, vanilla and honey together until smooth. Add ice if necessary. 2. Pour the shake into a cup and let it sit in the freezer for 5-10 minutes. 3. Crush 1/2 of the Banana Caramel Dippers onto a plate. 4. After the shake is firm use a butter knife to spread the White Chocolate Dip on the top two inches of the glass and roll it in the crushed Banana Caramel Dippers. 5. Next place a dollop of Greek yogurt on top of the smoothie and drizzle the caramel all over. 6. Top the shake with Banana Caramel Dippers and crumbs leftover and sprinkle the Graze Banana Cream Pie snack over the rest of the milkshake. 7. Garnish with an orange slice and you're good to go!
Or, if you're in the mood for something chocolatey, you can grab the ingredients for the Snickerdoodle Cookie Milkshake...
Ingredients: ½ cup almond milk ½ cup Greek yogurt 1 tbsp of cocoa powder 1 frozen banana ½ cup ice Dash of nutmeg & cinnamon Low-fat whipped cream or Greek yogurt Graze Snickerdoodle Dip Graze Chocolate Pretzel Dipper Graze Cocoa & Vanilla Protein Flapjack Graze Cocoa Cookies
...and get to work on creating this mouthwatering cookie-topped confection.
Directions: 1. Blend together the almond milk, Greek yogurt, cocoa powder, banana, ice, nutmeg, cinnamon and the Snickerdoodle Dip from the Graze Snickerdoodle Snack Pack together until smooth. 2. Place the milkshake in the freezer for 5-10 minutes. 3. Crush up the salted pretzels on a plate. 4. When the milkshake is firm use a butter knife to thickly spread the chocolate dip around the top 2 inches of the glass and roll it in the crushed pretzel chunks. 5. Place a dollop of low-fat whipped cream or Greek yogurt on top of the shake and begin placing the rest of the snacks on top! 6. Melt a little of the Graze Snickerdoodle Dip, drizzle it over the top of the shake and dig in!
Seriously, eating healthy never looked so good.