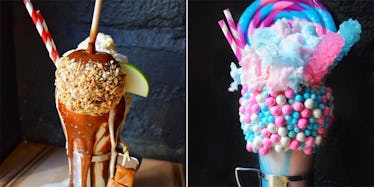 These Insane Decked-Out Milkshakes Take Dessert To A Whole New Level
It's no secret Australia is home to some seriously impressive food-porn creations.
Remember when I showed you all of those mind-blowing over-the-top milkshakes?
If those things made you drool, you'll be glad to know they're not the only frozen treats committing a little dessert-on-dessert crime these days.
Apparently, there's a new squad of milkshakes bringing people to the yard.
But this time, it's not in Australia. It's right here in New York City!
That's right. Black Tap Craft Burgers & Beer just took milkshakes to the next level by creating its very own version of outrageous candy-loaded confections.
Take a look at the photos below to see these magnificent milkshakes.
If you thought Australia was the only place to get some next-level shakes, think again.
Apparently, New York City is also stepping up its shake game with some frosty food-porn creations.
Feast your eyes on the almighty shakes from Black Tap Craft Burgers & Beer.
As you can see, these things are not your ordinary shakes.
Each one of these bad boys is loaded up with a mountain of sweets...
Because, let's face it, if you're going to indulge with a milkshake...
You might as well go all out and load that sh*t up with candy...
...cookies, pretzels, caramel, popcorn, lollipops and whatever else your hungry heart desires.
People are obviously losing their minds over these outrageous desserts...
...but then again, you can't really blame them.
I mean, seriously, just look at these things!
This shake is basically happiness topped with cookies in a cup.
Don't even get me started on this magical candy-coated confection.
Is this even real life?
If you're looking for me, I'll be at Black Tap sipping myself into a milkshake coma.
Citations: Holy Cow! These Are The Craziest Milkshakes in America (Delish)