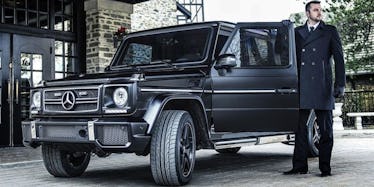 The $1 Million Mercedes-Benz Armored Limo Is The Most Boss Ride Ever (Photos)
INKAS
We've all seen some pretty incredible looking cars.
But if you require a ride that gives you a few more safety perks than the average vehicle, there's a new armored limo that won't make you sacrifice style for security.
Say "hello" to the Mercedes-Benz G63 AMG. The standard version of this 5,600-pound, military-grade vehicle is pretty incredible on its own.
However, the G63 AMG has just gotten a makeover from Inkas Group, transforming this badass Benz into a bulletproof limo that is a force to be reckoned with.
Seriously, this $1 million luxe armored vehicle is pretty damn impressive.
In addition to its stylish matte black finish, the Inkas modifications upgraded this lean, mean, Mercedes machine by adding bulletproof protection to the exterior surfaces along with a floor that can withstand grenades and a handful of security cameras to keep an eye on the perimeter of the limo at all times.
If you think that's amazing, just wait until you see the inside.
Aside from lots of exotic leather and fine wood finishes, you'll find a pair of customized captain seats, a satellite TV system, a fridge, a bar, a speed-vault pistol holder and an iPad mini, which lets you control all of the security features.
But that's not all.
The limo is also equipped with an indoor exhaust system that can recirculate the air to maintain a breathable environment in case you find yourself in a really sticky situation.
Trust me, nothing is getting through this bad boy.
Take a look at the pictures below to see this awesome armored limo.
Feast your eyes on the Mercedes-Benz G63 AMG.
This is what happens when luxury and style meet the highest level of safety.
This $1 million Mercedes limo comes in a stylish black matte finish.
And the exterior of this Inkas-modified ride is covered in the highest level of bulletproof protection.
Pop open the hood, and you'll find a powerful 544 horsepower, 5.5-liter biturbo V8 engine.
Take a peek inside this insane vehicle.
There's a satellite TV, bar and fridge...
...along with lots of fine leather, wood finishes and custom captain chairs.
Can't forget the speed-vault pistol holder and interior exhaust system in case of emergencies, either.
Seriously, this armored limo is nothing short of badass.
Citations: This $1 Million Mercedes Is Like An Armored Private Jet For The road (Business Insider)