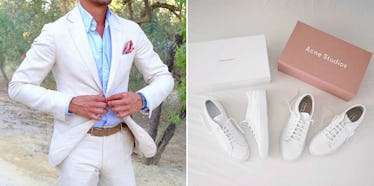 4 Clothing Hacks Every Dude Needs To Survive Hot Summer Days At The Office
I don't know about you, but I walked seven blocks this morning in the sweltering heat to get to my office and, by the time I grabbed an iced coffee and got in the elevator, I was sweating harder than Patrick Ewing in the fourth quarter.
Thankfully, the industrial-strength air conditioning in my office has since cooled me down, but as I sit here in my semi-damp jeans, I can't help but wonder how many other dudes experienced the same misery this morning.
How many guys have been dealing with this all summer? How many will continue to deal with it even after the first week of the NFL season kicks off?
Instead of feeling miserable for ourselves, though, let's try to be proactive to combat the problem. How can we as guys dress so that we're comfortable during our commutes, yet still look and feel professional enough to seize the day?
Well, the good folks at Lyst want to help us out. So, without further ado, here are four clothing hacks every dude needs in order to survive those hot summer days at the office, from the moment you leave your apartment to the moment you plop down on the couch to crack open a much-needed beer.
How much do you know about linen?
I have to be honest, I've never really been a linen guy. But after using a sweat towel this morning at Starbucks and being judged hard by everyone, I'm eager to give linen a try.
If your job requires you to wear a suit, you'd be doing yourself a huge favor by opting for an unlined linen one. The fabric is much more breathable than a standard suit.
The colors are up to you, but as Lyst points out, Uniqlo and J. Crew have some pretty affordable options compared to some of the big boys like Paul Smith and Armani.
Lyst reports roughly 3,000 searches for linen shirts since May, so trust you probably won't be the only dude to try linen before the summer ends.
Short-sleeve shirts are making a huge comeback this summer.
Since the start of 2016, Lyst has seen a staggering 720 percent increase in short-sleeve shirt searches. You have to get out of your head the notion short-sleeve shirts are just for your dad and that creepy dude who lives in 5L.
The functionality and style of today's short-sleeve shirts should be reason enough for you to stock your closet with these gems in preparation for the sizzling hot days still to come.
Polo shirt purchases have also been on the rise since the start of June, with Polo Ralph Lauren, Lacoste, Gucci, Moncler and Fred Perry all leading the way.
Speaking on this trend, Lyst Menswear Editor Sophie Hay says,
When it comes to short-sleeved shirts, my favorite style for this season might surprise you. The Hawaiian shirt has returned with a high-end upgrade. We've seen a 211 percent increase in searches for Hawaiian shirts since the start of year, with over 1,400 customers purchasing one since May. This season designers including Saint Laurent and Valentino have paid homage to the 1950s Aloha shirts with palm printed, pineapple covered and faded-out styles in silk and heat printed cottons. The nostalgic appeal of a palm print, combined with the fact it makes you feel like you're on vacation as soon as you throw one on, makes the Hawaiian shirt a perfect option for a sweltering office.
When it comes to summer, shorts are your best friend.
Tailored shorts are what you need to get your hands on this summer. They're perfect for the office, for happy hour and for whatever else you get into this summer.
The comfort and style a good pair of tailored shorts gives you will make you feel on top of the world and keep you dry as a bone.
Lyst reports a 112 percent increase in searches for tailored and chino shorts since summer 2015. J. Crew, Uniqlo, ASOS and Topman are among the big sellers so far this summer.
Stylist Darren Kennedy says that when it comes to keeping it professional at the office, the best look to go for is a pair of tailored shorts that sit right above the knee.
Sneakers are better than shoes in almost every way imaginable.
If you're not already familiar with the brand Common Projects, let me introduce you. Since the beginning of 2016, Lyst has seen over 10,000 dudes search for Common Projects sneakers, and it's not hard to see why.
White sneakers, like the ones pictured above, are the most popular style being purchased at the moment. A.P.C Acne, Zara and Axel Arigato all make a version similar to Common Projects'.
It's easy to see why this simple, white sneaker trend is so hot this summer. These kicks will not only keep you cool, they're simple and professional enough for the office, yet more than adequate for any activity you're doing after the five, six or seven o'clock whistle.
Speaking on the current sneaker boom, Hay says,
The sneaker revolution is complete. No longer are sports shoes reserved exclusively for the gym — today there are few places where upgraded tennis shoes aren't deemed acceptable, even in the office. Of course you can't just rock up to the boardroom in a pair of muddy lace-ups. Instead, it's about choosing luxury (or luxury looking) styles which are so beautifully made they match your suit in quality as well as formality.
So, there you have it, guys. Get on these summer clothing hacks ASAP, and never be caught sitting at your desk in a pile of sweat ever again.