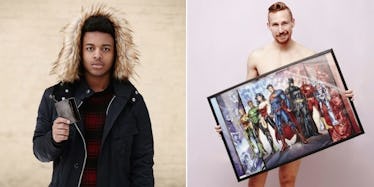 Men Show Off The Relationship Souvenirs They Kept From Their Exes (Photos)
Hello Mr.
The hardest part of a breakup is deciding what to keep.
Fascinated by the idea of holding onto a memento from a former love, photographer Sam Evans-Butler began documenting the "souvenirs" gay men kept from their lost romances.
BuzzFeed reports Hello Mr. magazine originally featured the series by Evans-Butler in an earlier issue but since decided to bring it back for a second round.
The intimate, heartbreaking photos capture the continued intangible presence of a person you can't quite forget because of a great love or, sometimes, a sense of spitefulness.
Whether it's a t-shirt or an album, a silly token can be an inextricable memory of time spent with that person.
If you have a keepsake to photograph, upload it to Instagram (tagged #YourSouvenir) by February 15. Hello Mr. is offering a $500 Need Supply Co. gift certificate for the best images.
Ryan holds onto a Comme des Garçons wallet purchased as a gift.
Dan saves a DC Comics poster, framed behind glass.
Fran wears his ex's old t-shirt.
Will saves a flask engraved with his initials.
Nathaniel keeps a ceramic bowl made by his one-time love, who's since become his best friend.
Dylan lounges in a shirt that once belonged to his ex.
Paul took his ex-boyfriend's sunglasses. He thinks they're ugly.
It's a pop-up card Jon Jon keeps as a memento.
Nick kept a necklace customized by his old boyfriend.
Adrian's one-time partner left this sketch for him.
The cat was a present from Mark's first love.
Erol and his boyfriend started this coffee bar together.
As a small act of spite, Sam grabbed his ex's lighter.
Matthew's ex paid for a tattoo of their favorite Cat Power song.
Drew took his boyfriend's cape.
This Maison Margiela sweater still smells like Matthew's ex.
Citations: Photo Series Asks What Souvenir Did You Keep From Your Ex After The Breakup (BuzzFeed )