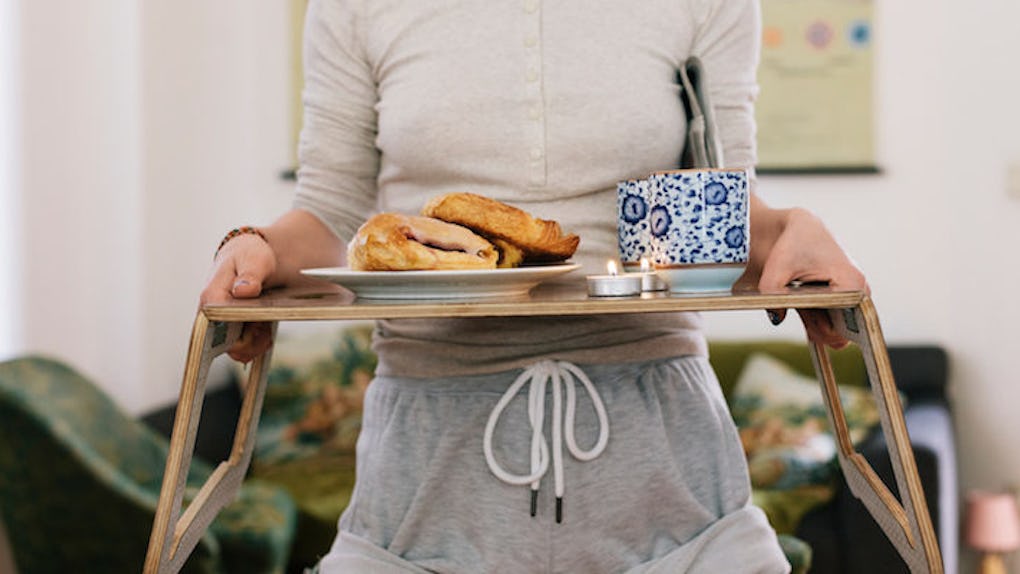 VegterFoto
Wake And Bake With These Marijuana Breakfast Recipes
You can make anything medicated by drizzling some cannabutter on top, but why stop there?
If you're looking to get creative and stoned in the kitchen, here's how you make the most important meal of the day truly special.
Start with some canna-coffee.
Take a packet of Jane's Brew, gourmet weed-infused coffee, add some boiling water and get your day started right.
My co-worker, Rob, tried it and said it improved his productivity, which is exactly what you'll need to get on the medicated #BrunchLife train.
Not a fan of coffee? Make some pot cocoa instead.
For this recipe, you'll need half and half or milk, cocoa powder, sugar, vanilla extract, some mini marshmallows (obvi) and about a tablespoon of ground weed.
Don't skimp on the fat when choosing a milk, as that's how the THC will get out of the bud and into your drink. You should probably add some extra chocolate, too, to mask the flavor of the marijuana.
PS: This is not the time to be on a diet.
Make some strawberry banana pot-cakes.
The flavors of strawberry and banana meld perfectly with that dank herb. You can find the recipe here.
Bring the doughnut shop to you with homemade medicated Krispy Kremes.
What could be better than an original glazed Krispy Kreme doughnut? A weed-infused Krispy Kreme doughnut.
Follow this recipe, and be careful not to get too stoned before you dive in; it takes a few more steps than your regular milk and cereal combo.
Looking for something on the savory side? Try a weed quiche.
Use a pre-made pie crust to cut your baking time in half. After that, it's just a matter of mixing all the ingredients and popping your quiche in the oven for a quick 30 minutes.
This recipe includes broccoli so you can get in that green and your greens.
Juice your weed for a light breakfast that's #SoLA.
First of all, yes, you can juice raw marijuana. Cannabis juice contains more CBD than THC, so if you're looking to get high, you'll want to pair it with a canna-quiche or morning joint.
And unless you have a fresh marijuana plant growing in your backyard or basement, you'll have to buy canna-juice elsewhere, as throwing dried dispensary weed into your juicer will not end well, trust me.
Here's a good breakdown of how to juice cannabis yourself, and here's how to make some with more accessible tinctures.
With high pain-killing benefits, this special juice is perfect for before and after Coachella.
You can't go wrong with medicated cheddar biscuits.
Once you make biscuits yourself, you'll never go store-bought again. And once you make those biscuits weedified, you'll never return to normalcy. Period.
This recipe for cheesy, medicated biscuits makes it super easy.
You can't have breakfast without bacon -- weed bacon.
This is proof that you can literally put marijuana in anything.
According to this recipe, you'll first need to make a little shake powder, which is simple enough, thanks to an informative video by Aunty Watermelon.
Monster munchie balls make for a perfect breakfast on the go.
With rolled oats, peanut butter and lots of cannabutter, these bite-sized balls are perfect for getting stoned on the go.
You can find the recipe here.
No brunch is complete without a bloody Mary-juana.
Because you're not really brunching unless there's alcohol involved, this recipe for a bloody Mary-juana will satisfy all your stoney, brunchy, drunky needs.
Tomato juice and a dash of Tobasco sauce cover up the herby taste of marijuana-infused vodka, making it the best stoner cocktail of all time.
Cheers!