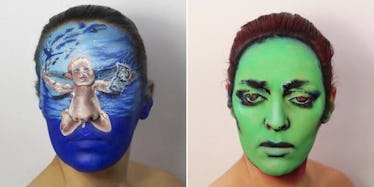 Makeup Artist Paints Her Entire Face With Iconic Music Album Covers (Photos)
Everyone knows you can do some spectacular things with makeup and a little imagination.
In honor of Record Store Day, artist Natalie Sharp recreated the iconic covers of all her favorite music albums.
But instead of using a some boring paint and paper, she decided to use her skin as a blank canvas and transformed her face into several incredible works of body art.
Sharp, who is known in the music industry as THE LONE Taxidermist, dedicated a lot of time to creating the covers in this stunning series and spent up to eight hours a day completing each painstakingly painted album cover.
Her makeup transformations include everything from Nirvana and Grace Jones to Björk, and each one looks absolutely amazing.
Take a look at the pictures below to see Sharp's Record Store Day series.
Peter Gabriel, Peter Gabriel (aka Melt)
Annette Peacock, I'm The One
Aphex Twin, Selected Ambient Works 85-92
Björk, Volta
Grace Jones, Island Life
King Crimson, In the Court of the Crimson King
Mike Oldfield, Tubular Bells
Nirvana, Nevermind
Talk Talk, The Party's Over
The Human League, Dare
Nico and The Velvet Underground, The Velvet Underground & Nico
Citations: Artist Creates Amazingly Realistic Paintings Of Famous Album Covers On Her Face (Design Taxi)