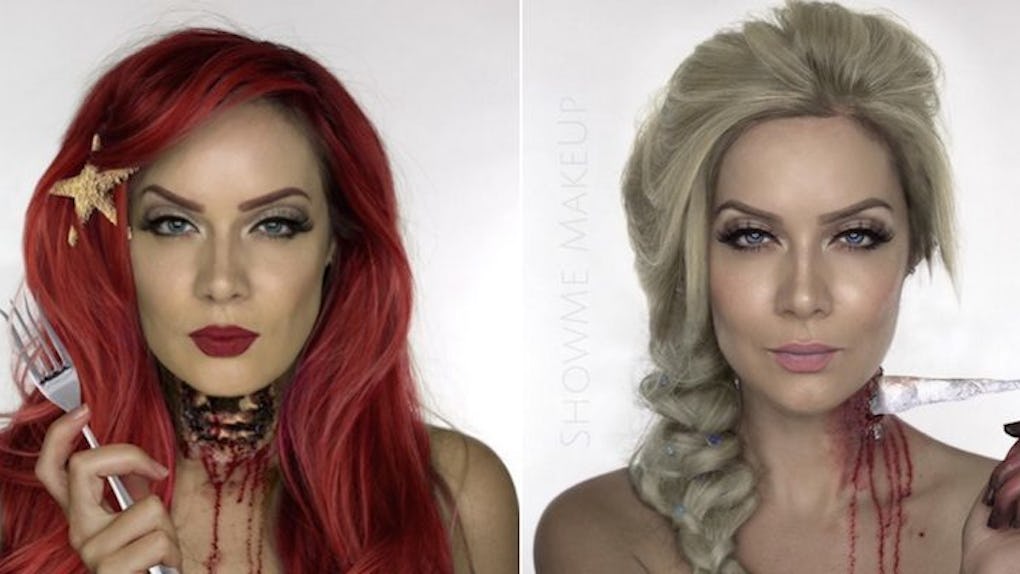 Instagram
This Artist's Dead Disney Princess Makeup Is Super F*cking Creepy (Photos)
Have you decided what you're going to be for Halloween this year?
You could always go with something basic, like a slipper-clad Cinderella or a fabulous, frosty Elsa.
Or if you're looking for something a bit spookier, you can put a seriously scary spin on some of Disney's seemingly sweet princesses.
In honor of Halloween, UK-based makeup artist Shonagh Scott teamed up with Velour Lashes to give some of your favorite Disney princesses makeovers that are simply to die for.
No, really, she went ahead and killed a bunch of your beloved characters with her badass makeup skills.
The project is fittingly titled "Happily Never After," and all of Scott's twisted princesses look absolutely incredible. Dressed in one of these costumes, you are pretty much guaranteed to scare the sh*t out of every single kid you run into on Halloween.
Take a look at the pictures below to see these amazing dead Disney princesses.
Meet talented makeup artist and Disney fan Shonagh Scott.
In honor of Halloween, Scott teamed up with Velour Lashes to ruin all of our childhoods by reimagining a bunch of Disney princesses for her "Happily Never After" series.
There's a frightful Queen Elsa from "Frozen"...
And a shoe-shanked Cinderella...
As well as a mauled Belle from not-so "Beauty and the Beast"...
A spooky Snow White who's feeling the burn from that bad apple...
...and, last but not least, a creepy, cut-throat Ariel from "The Little Mermaid."
Citations: Dead Disney Princesses Will Ruin Your Childhood (Bored Panda)