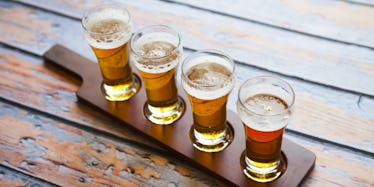 This New Kitchen Appliance Lets You Make Your Own Beer As Easily As Coffee
Shutterstock
Not too long ago we showed you an epic invention that was basically a Keurig for Jell-O shots. If you thought that magnificent shot-making machine was pretty damn awesome, you might want to brace yourself.
Someone just invented another ingenious gadget that will help you turn up with the push of a button. Behold, the BrewArt machine.
Created by Scott Harris and Paul Burge of Coopers Brewery in Australia, the BrewArt is a personal beer brewing system that's basically like a Keurig machine for beer and allows you to make high-quality sips without all the hassle of traditional brewing systems.
Yep, that's right. Brewing your own beer just got as easy as making a cup of coffee.
In a recent interview, Harris told Mashable Australia,
We were seeing that people were drinking less, but better. We did some research and thought, OK, there are lots of people who like to drink beer, we think there would be people who would have fun making it as well, so why aren't they doing it?
The BrewArt is made up of two units, a BeerDroid that brews the beer and a BrewFlo that chills and dispenses your homemade concoctions.
The BeerDroid also has WiFi and connects to an app on your phone so you can play around with different modifications and keep an eye on the overall brewing process.
The company is also offering packages that include all the ingredients you need to make your own beer, so you basically have no excuse not to turn your kitchen into a makeshift brewery.
If you're looking to get your hands on one of these babies, the BrewArt will be launching in Australia sometime in mid-July and will cost you around A$799 ($588 USD) for the BeerDroid and another A$699 ($514 USD) for the BeerFlo.
The BrewArt is a clever new invention that's basically like a Keurig machine for home-brewed beer.
The BeerDroid brews the beer and lets you keep an eye on the whole process through an app on your phone and the BrewFlo chills and dispenses your homemade concoctions.
Check out the video below for a closer look at this awesome beer machine.
Citations: BrewArt is an automated brewing system that's like the Nespresso of beer (Mashable)