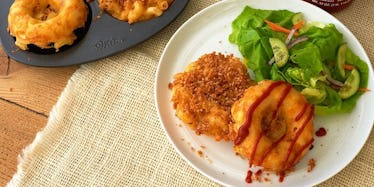 Mac And Cheese Donuts Are Real And They'll Be Your Favorite Midnight Snack
Three Bridges
I think we can all agree that both doughnuts and mac 'n cheese are delicious. I mean, doughnuts are a fantastic snack (or dessert), and mac 'n cheese makes for a delicious lunch or dinner. So of course, things can only get more delicious when you mix the two to create mac and cheese donuts.
That's right, folks: Mac and cheese donuts are an actual thing and you don't have to drive to an obscure location to enjoy one. Instead, you can make these in the comfort of your own home. Pretty awesome, right? Check out how to make your own mac and cheese doughnuts below.
Here's What You'll Need
One 12 ounce package of Three Bridges Creamy Cheddar Mac and Cheese Kit
1/2 cup of milk
1/2 cup of panko bread crumbs
2 tablespoons of butter
1 cup of shredded cheddar cheese
1 beaten egg
1 tablespoon of flour
These ingredients are easy to come by and even easier to mix together.
Here's How You Make It
Take your box of Three Bridges Creamy Cheddar Mac and Cheese, and prepare it as it says on the box, then let it cool. Preheat your oven to 350 degrees and mix the panko bread crumbs, one tablespoon of melted butter, and half of the cheddar cheese together in a bowl. Make sure to save the other half of the cheese because you'll need it for later.
Then, mix the mac and cheese, an egg, flour, and the remaining cheddar cheese together. Spoon your mixture equally into a greased doughnut pan, then sprinkle the tops with cracker crumbs and more cheese. Bake these savory doughnuts for 15 to 20 minutes, or until firm and golden brown. Then serve.
These delicious snacks work perfectly as party appetizers or for a girls night in. You might just end up having to make multiple batches, but you've been warned.