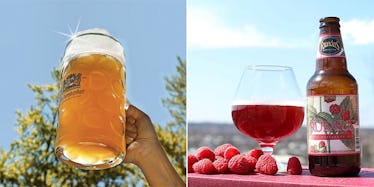 15 Good, Low-Calorie Beers You Should Be Drinking Before Summer Ends
Instagram
Ah, summer. The nights are long, the temperatures are hot and I'm getting thirsty just thinking about an ice cold beer after work.
I mean, is there anything better than a rooftop bar or an outdoor biergarten to revel in the late afternoon summer sun, sipping on suds?
I think not.
If you're like me, you love beer, and you're not going to change your alcoholic drink of choice based solely on the weather.
It may be summer, but there's no way in hell I'm jumping on the White Girl Rose train anytime soon.
That's why, during the summer, I like to change my palette up a bit and go for some lighter, seasonal options.
A little disclaimer: This isn't a list of "summer beers" you should be drinking right now, or 15 beers that are only available from June to September.
This is a list of beers, based on body and caloric content, that I tend to enjoy during the warmer months, and I think you will, too.
Check out these 15 beers to get after before imperial stout season returns.
Warsteiner Pilsner
AVB: 4.8 percent Calories: 150 Style: German Pilsner Country of Origin: Germany
A delicious German pilsner that's brewed year-round, Warsteiner will quench your thirst without filling you up.
Thanks to a lower alcohol content and calorie count, you can easily pound six of these and wake up not hating yourself.
Dogfish Head Festina Peche
AVB: 4.5 percent Calories: 135 Style: Berliner Weissbier Country of Origin: USA
Craft beer snobs are coming out of the woodwork to lobby for this summertime delight.
It works particularly well because it's not too hoppy, and the intense sourness of an average Berliner Weiss is tempered by the natural peach sugars.
Anderson Valley Summer Solstice Ale
AVB: 5 percent Calories:150 Style: Cream Ale Country of Origin: USA
AV's summer ale is a slightly sweet beer with a creamy taste and clean finish.
Dubbed by its owners as "cream soda for adults," this Boonville, California native is ideal for drinking away the workday blues, as well as stomaching that family cookout you've been dreading for weeks.
Bell's Oberon Ale
ABV: 5.8 percent Calories: 174 Style: American Pale Wheat Ale Country of Origin: USA
A beer so storied it has its own holiday in Michigan, Bell's Oberon has become an American summer tradition.
At 5.8 percent, this surprisingly drinkable wheat beer is a bit boozier than you might expect from something in this family, but ain't nothing wrong with that, right?
Rogue American Amber Ale
ABV: 5.3 percent Calories: 153 Style: American Amber Ale Country of Origin: USA
An amber-colored beer with a toffee aroma and a smooth finish, Rogue's American Amber Ale offers the perfect seafood pairing and is a former US Beer Tasting Championships Grand Champion. So there.
Abita Seersucker Summer Pils
ABV: 4.8 percent Calories: 144 Style: Pilsner Country of Origin: USA
Available June through September -- poke jokes at my intro, now -- Abita's Seersucker Summer Pils has a light golden color and is one of the most drinkable beers available at the moment. Try one or six this weekend.
Avery White Rascal
ABV: 5.6 percent Calories: 168 Style: Witbier Country of Origin: USA
An authentic Belgian-style wheat ale in every sense, Avery's White Rascal runs circles around that Blue Moon crap you order at happy hour.
This year-round goodie is spiced with coriander and Curacao orange peel, and suddenly I'm going to Curacao this summer.
Weihenstephaner Hefeweissbier
ABV: 5.4 percent Calories: 162 Style: Hefeweizen Country of Origin: Germany
You may not be able to pronounce this German classic -- VY-en-SHTEFF-ahn(-uh) -- but that doesn't mean you can't partake in all its glory.
Brewed out of the world's oldest brewery, in Munich, Weihenstephaner's Hefeweissbier has a white foam head, the smell of cloves and a subtle banana flavor. There's never a bad time for this beer.
Anchor Summer Wheat
ABV: 4.6 percent Calories: 135 Style: American Pale Wheat Ale Country of Origin: USA
I'm a big fan of most of this San Fransisco brewery's seasonal offerings, and their summer wheat is no exception.
An all-malt brew that's refreshing and goes down way too easy -- someone should really take my phone after 5 -- Anchor Summer Wheat is perfect for taking a cruise around the harbor or drinking so many in your backyard that you feel like you're on a boat.
Blue Point Blueberry Ale
ABV: 4.6 percent Calories: 138 Style: Fruit Beer Country of Origin: USA
An oldie but a goodie, I've been drinking Blueberry Ale since I frequented Boston Beer Works as a minor.
This isn't like any other snooty, fruit-flavored beer, it's subtle in its blueberry flavor, despite having a pretty strong aroma. I may even drop a few frozen blueberries in for effect -- yeah, I said it.
Duck-Rabbit Milk Stout
ABV: 5.7 percent Calories: 171 Style: Milk/Sweet Stout Country of Origin: USA
Before you come at me with your "no stouts in the summer" campaign, just hear me out.
Not all stouts are created equal, and The Duck-Rabbit Milk Stout is a more than agreeable beer for the warm weather.
It has a subtle sweetness that balances the sharpness of the grains that give the brew its dark color, and you're in luck because this one is available all year long.
Small Town Brewery Not Your Father's Root Beer
ABV: 5.9 percent Calories: 177 Style: Herbed/Spiced Beer Country of Origin: USA
A friend turned me on to this few weeks back, and I've been on the hunt to get more ever since.
I mean, who doesn't like a cold root beer on a summer afternoon? Add the nearly 6 percent alcohol content, and well, I now have a new reason to get up in the morning.
Ommegang Fleur De Houblon
ABV: 6.8 percent Calories: 204 Style: Belgian Pale Ale Country of Origin: USA
Fleur De Houblon literally means "hop flowers," and staying true to their reputation, Ommegang brews this summer treat with Whole-cone Bravo hops to give it a floral aroma and flavor.
In the typical Belgian style, this beer packs a boozy punch, but has a light finish that screams summer blackout.
Gordon Biersch SommerBrau
ABV: 4.6 percent Calories: 138 Style: Kölsch Country of Origin: USA
I first encountered a Gordon Biersch restaurant in Baltimore, and let me tell you, Dan Gordon and Dean Biersch know their shit.
The current seasonal, SommerBrau, is a light bodied beer with a crisp finish.
It's perfect for a baseball game, a barbecue and chasing away the Sunday scaries.
Founders Rübæus
ABV: 5.7 percent Calories: 171 Style: Fruit/Vegetable Beer Country of Origin: USA
I'm not usually a fan of fruit lambics, but Founders Rübæus is more in line with Blue Point's Blueberry Ale than it is Lindemans Framboise; only, with raspberries.
This unique brew is also unlike any fruity shandy that you maybe more familiar with in the summer.
It's simply a great balance of fruit and tart, as well as a nice punch at 5.7 percent.