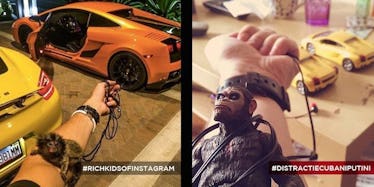 Low-Budget Recreations Of The Rich Kids Of Instagram Are Hilarious (Photos)
If anyone knows a thing or two about showing off on social media, it's the Rich Kids Of Instagram.
Whether they're posting #OOTDs that are dripping in designer labels, posing for a few pics from the parties they threw on their private yachts or simply taking some selfies in their fancy cars, there's no denying these privileged kids prove they're living the life of luxury.
However, some people think there's more to life than having a lot of money.
After coming across these rich kids, a bunch of clever Romanian kids started using the hashtag #DistractieCuBaniPutini which translates into #LittleMoneyBigFun, as a way to poke fun at these super rich Insa-showoffs.
By recreating low-budget versions of the Rich Kids' photos with everyday, inexpensive items, these guys prove you don't always have to be balling to have a good time.
Whether they're swapping out exotic animals for stuffed animals or posing with a toy version of a personal helicopter, all of their creative Instagram pics are pretty hilarious.
Take a look at the pictures below to see these awesome #LittleMoneyBigFun photos.
Just hanging out with my personal chopper. NDB.
Who needs Hermès when you have a bunch of hand-me-down handbags.
This guy eats paper watches and potpourri for breakfast.
See you later, alligator.
Who needs bling when you have vintage?
Forget about showing off with ferocious lions and Ferraris. This gal is all about stuffed animals and sedans.
Nothing makes your IG follows more jealous than a big, sparkling rock on your finger.
These pictures prove being rich really gives you a taste for the finer things in life.
Lying on paper bags is way better than lounging on a bunch of Louis.
Time to show off this balling backyard with a quick selfie.
Just posing with a super sweet set of wheels.
Can't forget to upload a pic of your furry friend cooling off with a quick drink.
Covering yourself in coins really shows off your net worth.
A custom watch looks great alongside a little prestigious plastic.
Feast your eyes on these expensive toys.
Or take a few snaps of your little furry friend while out for a spin.
Top knots and tons of money all day.
Who needs expensive champagne when you have Prosecco and PlayStation?
Citations: #LittleMoneyBigFun (Tumblr)