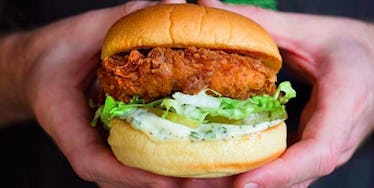 5 Good Reasons Los Angeles Should Be Pumped Shake Shack Is Coming
Los Angeles has always been home to some of the best burger spots in the country -- that's no secret. But there's one burger franchise that's never even stepped foot in the City of Angels.
Here's a hint: It's Shake Shack.
The New York City-based fast casual restaurant chain plans on expanding its mouthwatering operation by opening a Los Angeles location in 2017.
According to the Los Angeles Times, the new Shake Shack is set to replace the 801 Hills Nightclub in the Downtown LA area.
In addition to the Downtown LA location, the chain plans to add West Hollywood and Glendale locations to its growing roster.
If you've ever been to the Madison Square Park Shake Shack location in New York City, you know the long lines can be grueling, but in the end, it ends up being 100 percent worth it.
But if you're in Los Angeles and you've never been able to experience authentic Shake Shack goodness firsthand, here's why you should be stoked:
The 'Shroom Burger is out. of. this world.
Shake Shack offers an endless selection of mouthwatering burgers, but there's one that stands out just a wee-bit more than the others. Feast your eyes on the 'Shroom Burger, aka the "Shack Stack."
This masterpiece comes with a crisp-fried portobello mushroom filled with melted muenster and cheddar cheeses, topped with lettuce, tomato and, of course, Shack Sauce.
Go ahead, try not to drool.
Shake Shack shows you how long the line is before going.
Your stomach's viciously consuming itself. You softly whisper under your breath, "Shake Shack." After jetting out of your office chair like a madman, you come to a full stop.
You're met with a winding line that wraps around the block. Brutal.
The good news? Shake Shack now has a line camera that allows NYC dwellers area to see how long they'll be waiting to order. It wouldn't surprise me if the burger chain implemented this handy feature at its future Downtown LA location.
All praise to the line cam!
The frozen custard calendar will change your life.
Is it ever really "cold" in Los Angeles?
I mean, back in New York, they have it pretty bad. Sure, for it to be 60 degrees on Christmas Day was something of a holiday miracle, but it wasn't long before the cold crept in and made itself feel at home.
After landing in Los Angeles on January 3, I was able to gather that temperatures hardly ever dip below 64 degrees during the day -- aka, I'll have no problem indulging in Shake Shack's frozen custard all year long.
Oh, and the chain even has a calendar for the famous confection, with flavors that change on a weekly basis.
You've been warned.
Its secret menu includes beer floats, grilled cheeses and ice cream sandwiches.
If you haven't tapped into Shake Shack's secret menu, have you even lived?!
We're talking quad burgers featuring not one, not two, but FOUR delicious burger patties topped with the best American cheese in the land. What could be better? Perhaps everything else on the menu!
Other items include Sport Pepper Cheese Fries, Shandies (lemonade and beer), protein-style burgers, the Shack-cago hot dog, the Peanut Butter Bacon ShackBurger and extra Shack Sauce.
Because you can never have enough of that stuff.
Oh, and if you ask, they'll give you a Pooch-ini for your dog, which consists of dog biscuits, peanut butter sauce and vanilla custard.
You can unwind (and get drunk) there.
Last time I checked, In-N-Out doesn't serve liquor.
That fact alone ensures you won't catch me there after a long day at the office in 2017. But where you might be able to find me is at the nearest Shake Shack.
I could always go for some Animal-Style fries, though...
Shake Shack offers a solid variety of beer and wine, perfect for kicking back and recapping the day. And if you're bold enough, you can always pair it with a Double ShackBurger!
Citations: Shake Shack Launches Third LA Location in Downtown Next Summer (Los Angeles Eater)