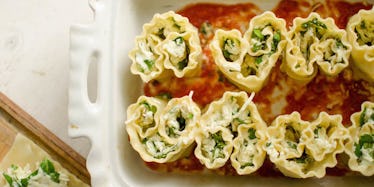 These Lasagna Heart Roll-Ups Are Totally Perfect For Valentine's Day Dinner
There are all sorts of heavenly home-cooked meals you can make to impress your Valentine.
But we just came across one tasty Valentine's Day recipe that is pretty much guaranteed to make you fall in love.
Desarae, one of the talented ladies behind the food blog Oh So Delicioso, just took your favorite Italian meal to the next level by transforming this traditional dish into a bunch of badass heart-shaped lasagna roll-ups!
You'll be glad to know these little guys are pretty healthy and easy to make, plus Desarae was nice enough to break down the whole process of making these things. Now there's literally nothing stopping you from cooking the most romantic dinner your date has ever seen.
Try not to drool as you check out this lovely lasagna below.
Oh So Delicioso just created the ultimate Valentine's Day dinner: heart-shaped lasagna roll-ups!
To make this mouthwatering meal, you'll need to mix some cheese, spinach, basil and garlic in a bowl.
Then spread the mixture on some cooked lasagna noodles.
Next, roll both ends of the lasagna noodles toward the middle.
Pinch the bottom of each noodle...
...to achieve the perfect heart shape.
After that's done, place your roll-ups on their sides in a glass dish, cover with sauce and toss them in the oven until they're baked to gooey, cheesy perfection.
Cut each roll in half, plate them facing upright and serve your sweetheart!
Citations: Lasagna Heart Roll Ups (Oh So Delicioso)