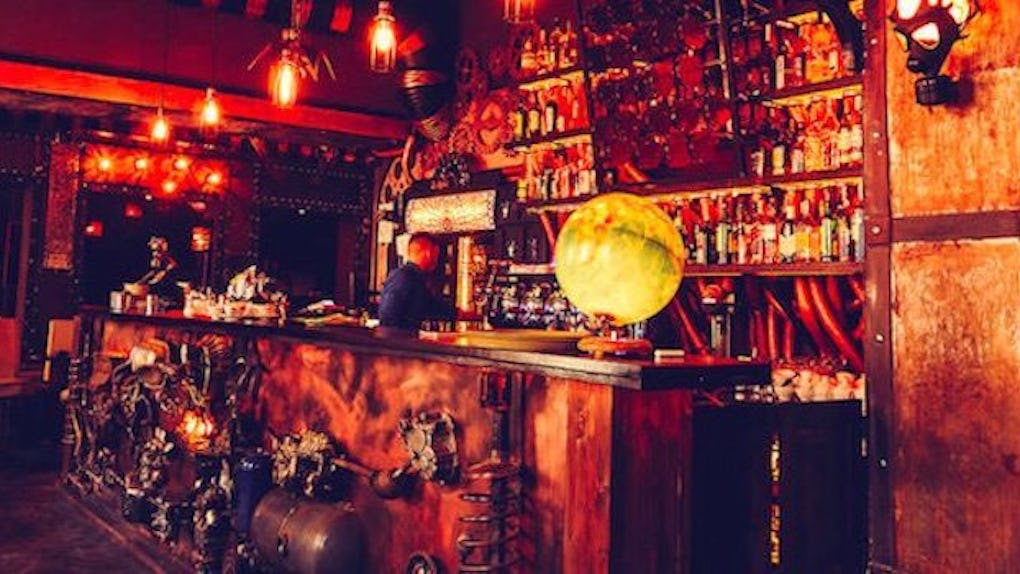 The 6th Sense Interiors
This Incredible Bar Makes You Feel Like You're Inside A Time Machine (Photos)
We're all familiar with modern-age bars and contemporary lounges.
But have you ever wondered what it would be like to booze like people did back in the day?
Well luckily, you no longer have to wonder because Romania's bar scene just got a serious blast from the past.
Enigma Cafe in Cluj-Napoca is the world's first so-called kinetic steampunk bar, and this place basically makes you feel like you stepped out of a time machine and into an eerie bygone era.
The space was designed by The 6th-Sense Interiors and features a stunning steampunk decor studded with all sorts of incredible sculptures and steampunk relics.
Alexandru Tohotan and Zoltan Zelenyak are the two creative geniuses who authored the concept of Enigma Cafe, and it's not hard to see these two really outdid themselves.
Take a look at the pictures below to see this awesome steampunk pub.
Behold, Enigma Cafe.
Designed by The 6th-Sense Interiors, this Romanian bar is the world's first kinetic steampunk pub, and it looks absolutely incredible.
According to a post by The 6th-Sense Interiors, the cafe features "various details [focused] on labyrinthian imagery."
Elaborating on the imagery, the post says, "The patterns on the ceiling, multiple industrial boards representing secret entrances to all those possibilities life has reserved for us..."
"...the key to which are the ultimate choices we make, choices which will either imprison us or set us free."
Posted by Enigma Cafe Cluj on Thursday, October 15, 2015
Inside, you'll find a giant mechanical clock on the wall making you feel like you are actually stuck inside of a moving timepiece...
...and a bar constructed to look like an elevator and capable of taking you to parts of the bar representing different eras of time.
The cafe also features a variety of stunning steampunk sculptures...
Scattered across every surface of the space (including the ceiling)...
And brought to life with shocking effects...
...and mechanical movements.
If the breathtaking decor isn't enough to blow your mind...
Enigma also has a variety of interactive shows...
Posted by Enigma Cafe Cluj on Sunday, October 18, 2015
...featuring live actors from different time dimensions.
Posted by Enigma Cafe Cluj on Sunday, October 18, 2015
Check out the video below for a closer look at this badass bar.
Citations: The First Kinetic Steampunk Bar In The World Opens In Romania (Bored Panda), Enigma cafe (The 6th-Sense Interiors)