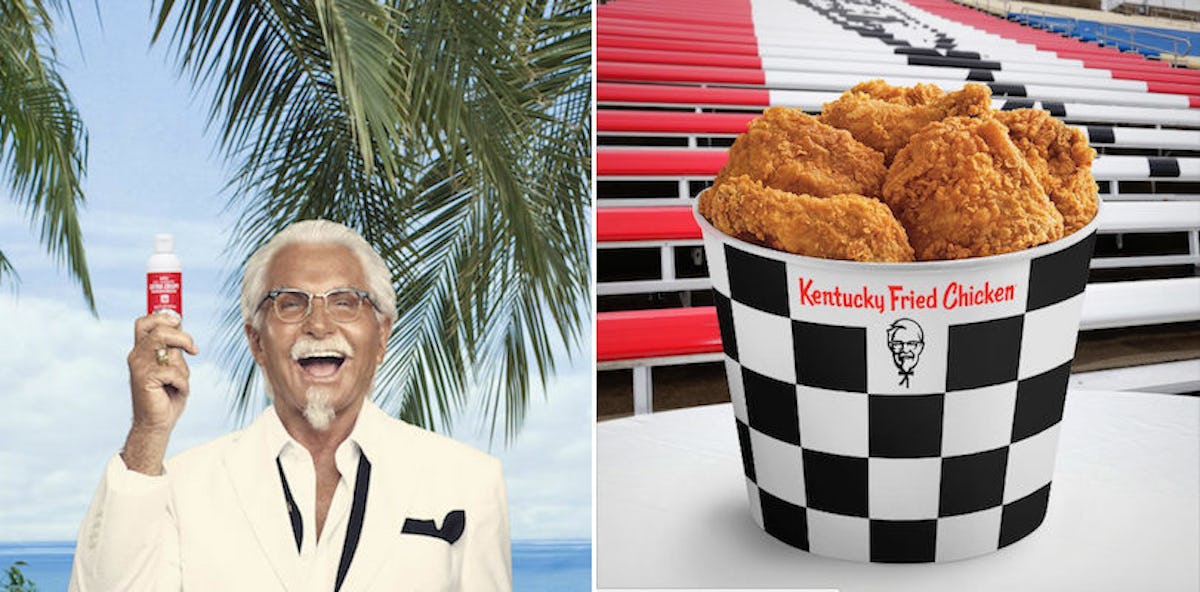 KFC Is Now Selling 'Extra Crispy' Sunscreen That Actually Smells Like Chicken
There's no shortage of strange beauty products out there.
Remember when we gave you a glimpse of that edible nail polish that tasted like your favorite KFC snacks?
Well, it turns out that poultry-flavored polish isn't the only beauty product the Colonel has up his sleeve.
Yep, if you're looking for some sun protection that's finger lickin' good, you're in luck.
KFC just released an "Extra Crispy Sunscreen" that puts a savory spin on SPF by giving it a fried chicken scent.
Because, according to the company, "the only skin that should be extra crispy this summer is on your fried chicken."
Thanks to this innovative skincare, you can now slather on some SPF 30 that makes you smell like a big ol' bucket of KFC's fried chicken.
Everyone knows that banana-scented sun tan lotion is, like, so last season.
If you're wondering how this all works, it's quite simple.
According to KFC's website,
Harmful ultraviolet rays bounce off your skin, while the lovely fragrance rays penetrate it to give you a healthy chicken aroma.
You might think this is a joke, but it's 100 percent real. We have a bottle at the Elite Daily office, and it definitely doesn't smell like your average sunblock.
Although this Extra Crispy sunscreen may smell like a fabulous fried chicken feast, you should probably refrain from eating this stuff.
Unfortunately, it appears that poultry-inspired sun protection is in pretty high demand these days, given that these tasty tubes have already sold out online.
So, if you really want to get in on this delicious trend, I guess you're just going to have to make do by applying your normal sunscreen with a few of KFC's signature drumsticks.
Citations: KFC's Extra Crispy Sunscreen (KFC)