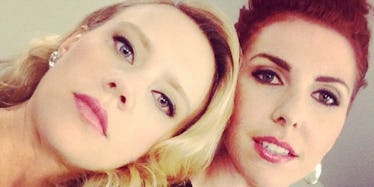 Kate McKinnon From 'SNL' And Her Girlfriend Define #CoupleGoals (Photos)
Insatgram
It can be pretty hard to keep up with the "who's dating who" of Hollywood.
At times, it seems like celebs go through significant others faster than Kylie Jenner uses up a stick of lipliner.
I mean just the other day, Ruby Rose made us cry more than Adele's new album when she announced her seemingly picture perfect relationship with fiancé Phoebe Dahl was over.
But before you decided love is dead and we're all doomed, you should know there is still some hope out there.
Recently, another couple, Kate McKinnon and Marla Mindelle popped up on our celebrity relationship radar.
Both "SNL" star McKinnon and her girlfriend are established actresses, but when it comes to being seriously in love with one another, these two are definitely not putting on an show.
When these gorgeous gals aren't busy making us all laugh, they're usually melting our hearts with all of the adorable things they do together on a daily basis.
If you ask me, McKinnon and Mindelle are as close to perfect as it gets and it's not hard to see these two definitely take the win for celebrity #CoupleGoals.
Take a look at the pictures below to see these lovely ladies.
Kate McKinnon and Marla Mindelle might just be one of the cutest couples in all of Hollywood...
...and these gals constantly give us #RelationshipGoals to look up to.
Kate and Marla go on all sorts of adventures around the world...
...but still leave some down time to take adorable pics while cuddling.
It's pretty obvious these two have a lot in common.
Aside from being talented actresses...
...both Kate and her beautiful girlfriend...
...share a love for music.
They even tried to start a band together called Indigo Squirrels.
Plus, these ladies really know how to clean up for the red carpet...
...and their award show selfie game is seriously strong.
These goof balls can always be themselves around each other...
...and they constantly make each other laugh with their silly antics.
Who can forget that time Marla posted an adorable photo of Kate as her #WomanCatWednesday?
I mean seriously, just look at the way they stare into each other's eyes. If that's not true love I don't know what is.