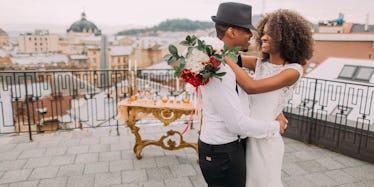 These Beautiful, Intimate Spots Will Make You Dream Of Having A Small Wedding
Shutterstock
When it comes to your big day, size matters.
And you certainly know what I'm talking about here. One of the first things you should consider when planning your wedding is the guest list. Do you want your wedding to be big, or would you prefer a smaller, more intimate vibe?
Some couples know exactly what they want, while others may let the size of their families determine how big their wedding will be. And if a couple decides to have a destination wedding, the guest list may end up being smaller.
Once you nail down the guest list, the fun part begins ... venue shopping. Scouting out the ultimate spot where you and your future spouse will celebrate the big day should be an amazing experience. Big or small, this "size" decision will narrow down the choices.
These romantic spots I scouted out are perfect for a small, romantic ceremony and reception. Maybe they will sway you in a certain direction.
Tie the knot with the love of your life in front of a breathtaking urban skyline backdrop.
You'll definitely resemble the king and queen of the city. Seriously though, today is all about you.
Or maybe a flower meadow is calling your name.
The stunning pictures will certainly not disappoint.
For all of my passionate wine lovers out there, a vineyard is the way to go.
What could beat this outdoor setting, complete with rolling hills and grape vines?
Setting sail to the sea defines romance and glamour.
Cruise into the sunset...
...and dance the evening away on deck.
Disney World is truly a magical spot to get married.
The bride's dream of being a princess on her big day will turn into a reality...
...especially when the carriage escorts the bride and her groom into a dreamy abyss.
Having a wedding on a mountain is exquisite.
You can even snuggle up for the ride to your destination in a chairlift.
A backyard ceremony creates an intimate feel like no other.
When you're surrounded by close friends and family, what could beat home sweet home?