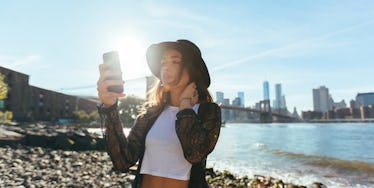 Instagram Hacks To Gain Followers, According To A Social Media Expert
Nowadays, social media is basically just a big popularity contest where people compete to see who can rack up the most likes and followers.
While most of us would never admit it, I think deep down we all secretly want to be as Insta-famous as Kim K or T Swift.
However, achieving this status is often easier said than done.
But don't worry, it turns out you don't need a famous last name to gain some new followers.
As someone with over 350,000 Instagram followers, I can tell you first hand having a kick-ass idea, a clever name and a cohesive collection of photos can go a long way.
But I've also found it's a bit more challenging to achieve Internet fame when your account isn't solely comprised of shirtless dudes and dogs.
So I turned to Instagram expert Anthony Carbone for a little help on how to build up personal accounts.
In addition to working with a variety of impressive accounts, Carbone has performed over 5,000 controlled Instagram tests, so this guy really has his Insta-game down to a science.
He revealed the key to having a follow-worthy account boils down to simple variables relating to how you present yourself, the timing of your posts and your level of engagement.
But above all else, Carbone told Elite Daily to remember,
Content is king, whether yours or others. If other [photos] are used, it's extremely important to give credit to the photographer. The quality and composition of photos is also a HUGE factor. Bright, happy, vibrant photos outperform for engagement and attract up to five times more followers.
Take a look at the pictures below to see Carbone's secrets to achieving Instagram success.
Pick the proper device.
If you're planning to post live photos, you should opt for an iPhone because it has a high-quality camera. But if you're looking to save photos and post them later on, Android offers better integration with cloud-based services.
Get the right apps.
There are three apps every Instagrammer needs: a watermarking app to mark your original photos, an automated caption app that makes captions for you and KiK, a messaging app that allows you to communicate with other Instagram users.
Choose the perfect profile picture.
First impressions are extremely important. Your profile pic is a representation of your whole account, so keep it simple, professional and try to avoid overlaying text.
Include an interesting bio.
Keep it brief -- about four or five lines -- make sure it's descriptive and keep your use of emojis to a minimum.
Only post quality photos.
No one wants to follow an account filled with sh*tty pictures. Use photos with a minimum size of 1080 x 1080 pixels to ensure good quality. Don't be afraid to play around with angles and lighting to achieve the perfect shot.
Don't forget to use captions.
A caption is just as important as the photo itself. An awesome caption can make an average photo seem really great, so take the time to think of something funny or interesting to include with your upload.
#Hashtags are key.
Not all hashtags are created equal. When you post a photo, you want to use descriptive hashtags that have (or represent) at least two words. This will make your photos more searchable for potential followers.
Only post at certain times.
When it comes to racking up those likes, timing is everything. Through extensive research, Carbone found the best times to post on Instagram are between 8 am-11 am, 2 pm-4 pm and 7 pm-9 pm.
Pick the proper posting frequency.
If you're starting a new account, Carbone suggests posting one photo in the morning and one at night. When you hit 5,000 followers you can start posting three or four photos per day, and once you reach 10,000 followers you can amp up your account to four or five photos per day.
Don't forget about engagement.
If people comment on your photos, make sure to write back! If you have some conversations going, other Instagram users will want to join in.