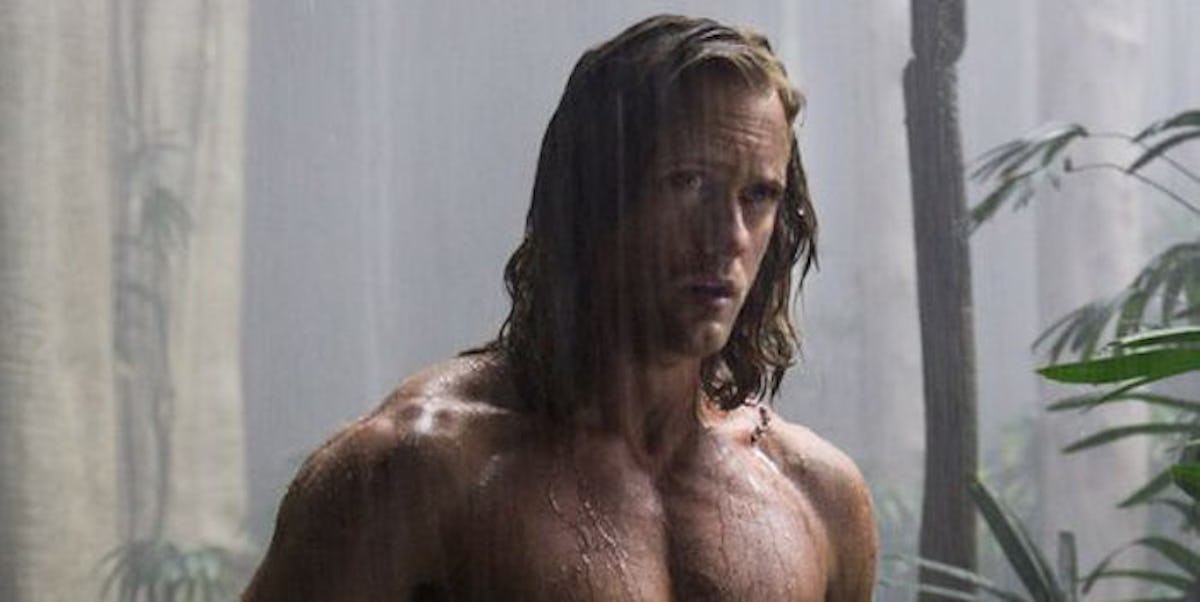 Shirtless Alexander Skarsgård Looks Insanely Hot In New 'Tarzan' Movie (Photos)
Warner Bros. Pictures
If you have a thing for dudes who look a little rough around the edges, you may want to stop what you are doing and pay attention.
We just came across the first photos released by Warner Bros. for the upcoming movie "The Legend of Tarzan," and they're pretty much guaranteed to make you go wild.
Yep, the photos feature a shirtless Tarzan, played by Alexander Skarsgård, and trust me, this jungle babe does not disappoint.
In fact, people are basically losing their minds over how insanely hot Skarsgård looks as the lead character in this familiar story.
When asked about the upcoming film, Skarsgård told USA Today,
It's almost the opposite of the classic tale, where it's about taming the beast. This is about a man who's holding back and slowly as you peel off the layers, he reverts back to a more animalistic state and lets that side of his personality out.
I think it's safe to say this tantalizing Tarzan will bring out the animalistic side of any woman.
Seriously, that Jane is one damn lucky lady.
Take a look at the pictures below to see this gorgeous guy from Tarzan.
The first photos from "The Legend of Tarzan" have been released.
Welcome back to the jungle, Tarzan. 'Tarzan' puts a twist on a legend https://t.co/X44TDFQARO Photo: Jonathan Olley pic.twitter.com/KKYj4iJquZ — USA TODAY (@USATODAY) December 9, 2015
The lead role is played by eye-candy actor Alexander Skarsgård...
'Legend of Tarzan': First Look at Alexander Skarsgard and His Jungle Abs (Photo) https://t.co/1Wh6usd92f pic.twitter.com/rhGdFTM7dd — TheWrap (@TheWrap) December 9, 2015
...and it's not hard to see he looks even hotter when he's strutting his stuff around the jungle without a shirt on.
Alexander Skarsgard e Margot Robbie são Tarzan e Jane nas primeiras fotos do filme! https://t.co/owuoAu7wBb pic.twitter.com/XnjHIQGOyU — Experimento 42 (@Experimento42) December 9, 2015
Yep, people are pretty much going apesh*t over this smoking hot Tarzan.
Is it wrong I'm starting at Alexander Skarsgard more than Margot Robbie #Ripped https://t.co/5wdLMg8hxO — Amar Dhillon (@amard1981) December 9, 2015
Then again, you can't really blame them since Skarsgård is probably the most blessed creature in the entire Congo.
i'm not saying i've been staring at alexander skarsgard's abs since 9am, but, just HOW?? like wtf how is this real?! pic.twitter.com/22kJ7pJk8e — Gegey (@Gegeyf) December 9, 2015
I'm pretty sure every gal would give up civilization for a chance to be this sexy beast's Jane.
First Images of 'The Legend of Tarzan' with Alexander Skarsgard and Margot Robbie https://t.co/1U99l6G2or pic.twitter.com/SlyIXIB90f — pajiba (@pajiba) December 9, 2015
Citations: See Alexander Skarsgård and Margot Robbie in the first look at The Legend of Tarzan (Entertainment Weekly)