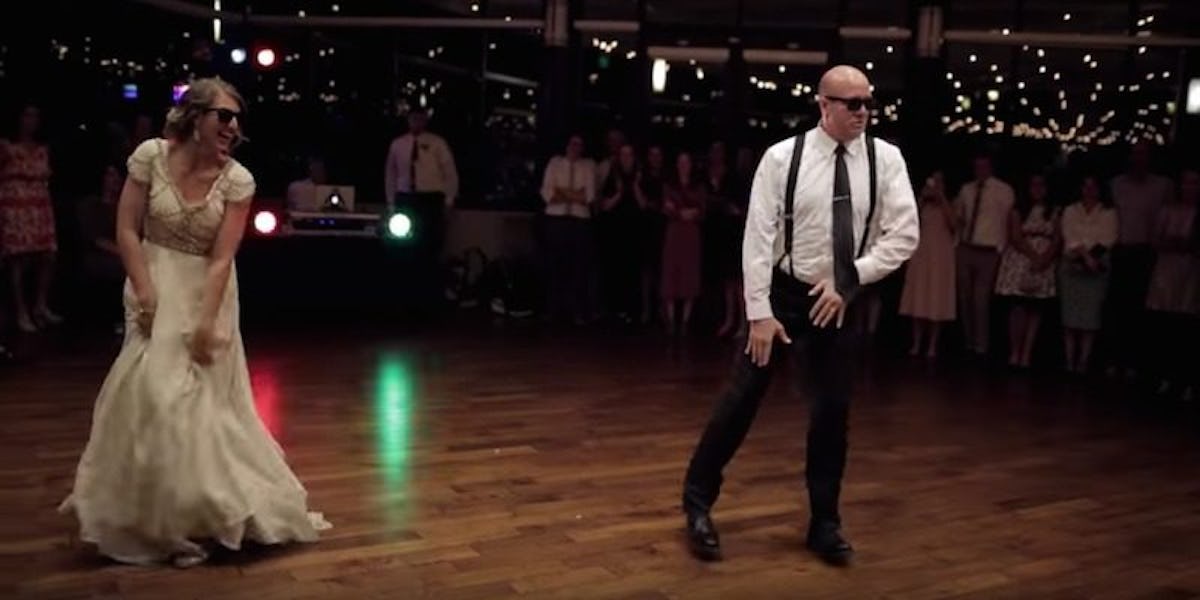 This Incredible Father-Daughter Wedding Dance Puts All Others To Shame
YouTube
I absolutely love weddings. I'm also a super sappy chick.
So you can imagine putting those two things together. When it's time for the traditional father-daughter dance, I start to get v. emotional and tear up… most especially when this girl has a drink in her hand from the open bar.
But to be completely honest, even if I didn't know the bride and her father here and was just a tiny fly on the wall watching them dance, I'd probably still cry my heart out.
When I was a little girl, it was one of my favorite things in the world to go to the father-daughter dance with my dad. My mom would always buy me the most beautiful dress and coordinating "party shoes," as I liked to call them.
I would get my hair done, and my dad would buy me a beautiful corsage that matched my dress perfectly. Standing on his feet as we danced the night away was the norm because I was (and still am/forever will be) Daddy's little girl.
When I saw this bride's dance with her dad, I thought it would be the typical tearjerker of a father-daughter wedding number. The video begins with Mikayla Phillips and her dad, Nathan Ellison, slow dancing to Bob Carlisle's "Butterfly Kisses."
*Waterfall of tears commence*
But THEN, the dance transforms into something entirely new and unique. This father-daughter duo surprised everyone.
They whip out sunglasses and MAJOR MOVES on the dance floor as M.C. Hammer's "Can't Touch This" comes on and the dance turns into an insane mashup of awesome jams.
This dad has so much swag on the dance floor, it's unreal. I'm kind of jealous, to be honest.
Phillips opened up to ABC News, saying,
Every night [in the week] prior to the wedding we'd run through it a few times. I think since we'd talked about it for years that it was pretty easy for it to come together.
For real, though, they totally crushed it.
Citations: Check Out the Epic Father-Daughter Dance That Blew Everyone Away (Cosmopolitan)